Embroidery of a Thousand-Armed Kannon
Not on view
This exceedingly rare example of late medieval Buddhist embroidery depicts a Thousand-armed Kannon (Japanese: Senju Kannon). Such elaborate textiles were painstakingly stitched as an act of devotion and an individual or group of believers would commission them in order to gain religious merit. Stylistic considerations place this work in the late fifteenth or early sixteenth century, which concurs with radiocarbon dating of thread samples.

Senju Kannon, a manifestation of a compassionate bodhisattva, has eleven heads (jūichimen) and multiple arms. Though senju literally means "one-thousand arms," sculpted and painted version of this deity often reduce the arms to a finite number, such as ten. Here, the palms of the deity's central hands are pressed together to form a gasshō, a gesture of greeting and reverence. Other hands wield a hand drum, pilgrim's staff, trident, Dharma wheel, wish-granting jewels, bow and arrows, bell, and prayer beads. The figure of Kannon stands on a lotus platform surrounded by a mandorla with eleven disks on lotus flower supports. Above the figure are orbs representing the moon and sun. The Japanese characters jūban 十番 above the figure indicates that this work is from the "tenth" temple in the Eighty-Eight Temple Pilgrimage Route of Shikoku Province.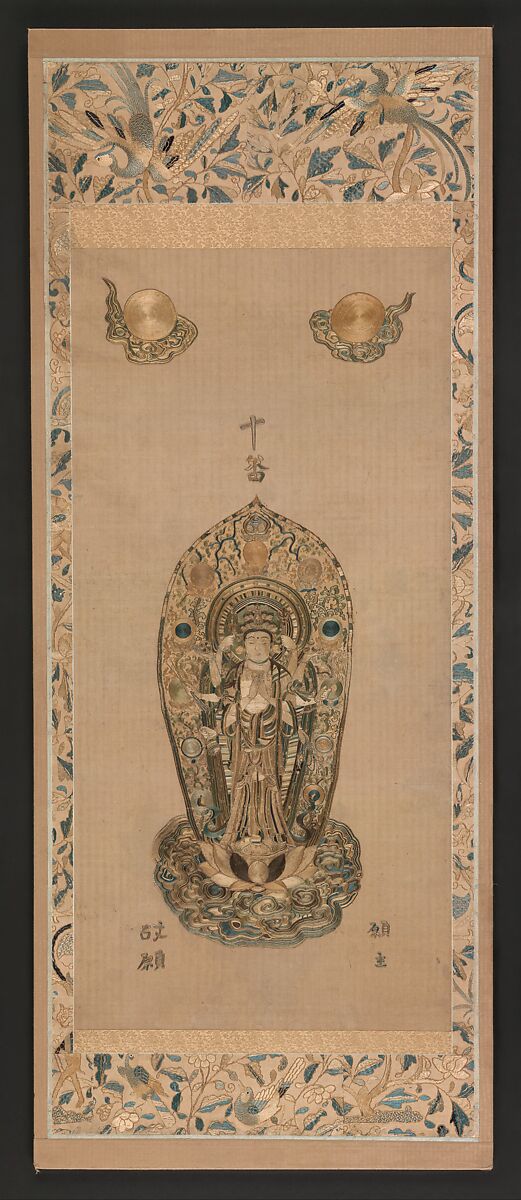 This artwork is meant to be viewed from right to left. Scroll left to view more.