Robe à la Française
Not on view
Like the Mantua, the sack, or sacque, dress began life as an informal garment. It was initially a French fashion, its defining feature being the row of two double box pleats sewn in at the center of the neckline at the back of the dress and falling to the hem. The early form of the gown was loose and unstructured, falling from the shoulders in a bell-like shape. This evoked many comments on the potential for immoral behavior, with the consequences safely concealed by the voluminous gown. A sack was always worn over stays (a corset) and gradually the style developed to become much closer fitting around the waist, with only the pleats at the back remaining free from the bodice. The gown was now worn open down the front, revealing a petticoat and stomacher. The closed, buttoned stomacher on this particular dress is referred to as a front.
The flat folds of fabric, known as robings, that edge the sides of the gown were left over from the large pleats that once fell from the shoulders. As the sack became more formal, robings presented an opportunity for embellishment, as in the pleated folds adorning the sides of the blue gown pictured here. They were often stuffed with sheep's wool to give them volume. Other types of adornment included metallic lace and fly braiding on a trim of silk floss tied into tiny multicolored knotted tassels. The flounces that decorated the front of the petticoat were known as falbellas or furbelows, and were usually affixed only to the front of the petticoat, where they were visible.
By the last quarter of the century, trimmings for formal dress had become increasingly elaborate, often costing more than the dress fabric. It was common practice to wear the same dress to different occasions, merely changing the trimmings to give a different effect.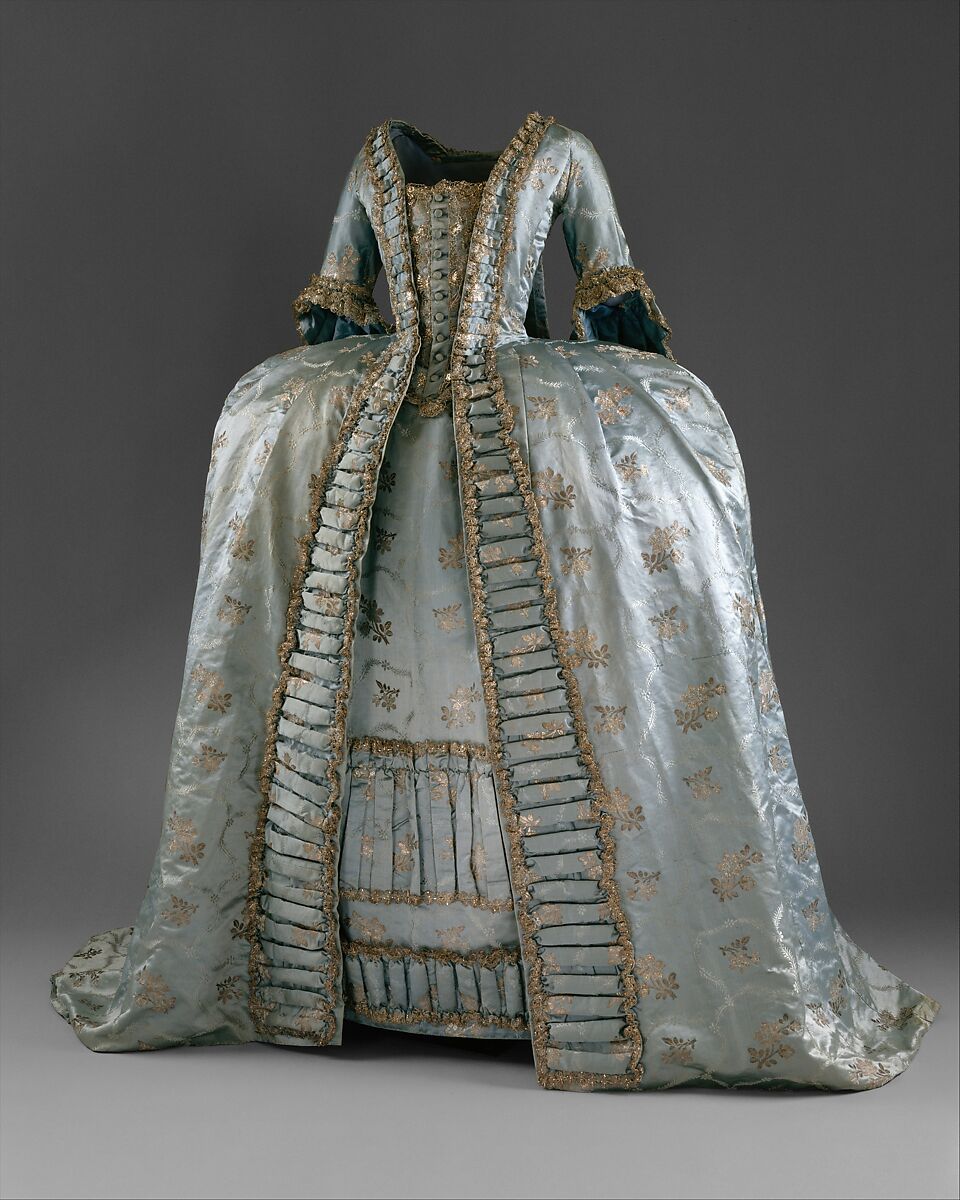 This artwork is meant to be viewed from right to left. Scroll left to view more.