Helmet mask
Not on view
This imposing helmet mask in wood represents the head of a male dignitary. The master carver responsible for this powerful creation experimented with the expression of the head's volume, angling it backwards at a 45° angle. Every element in the definition of the facial features and hair emphasize this dynamic approach. Deeply set under a bulging forehead, the narrow eyes are slanted and stretched towards the temples. The tip of the prominent nose points slightly downwards and the nostrils are flared and precisely defined. The angles of the arrow-shaped mouth stretch upwards. As a result, the mouth is parallel to the edge of the beard that defines the lower extremity of the mask. The wide trapezoid forehead is framed by a distinctive coiffure, which both projects backwards and angles back sharply towards the temples. The surface of the mask is intensely textured, from representations of keloids on the temples and forehead, to rows of holes of varying dimensions under the eyes, along the beard, at the jointure between the hair and forehead, and at the top of the head, as well as metal strips along the nose. Close examination reveals several layers of pigments over the entire surface and X-rays attest to the presence of metal points embedded under the surface. These metal points must have previously held sheets of metal or fabric and beads stretched over the mask's surface. All these details point to the mask's age and extensive and varied use, its long history embedded into its layered surface.

Now covered entirely in black pigment, it can be associated to a genre of mask known as Bongo. Specialist David Binkley has described how Bongo masks take a variety of shapes but are distinctive for being painted an intense black. Bongo masks appear during initiation rites and at funerals. Concealing a dancer's identity, the wooden helmet mask would have been accompanied by a skirt and collar made from freshly cut raffia palm leaves. The erratic and unpredictable movements during the masked performance suggest the untamed forest world where many potential dangers lie for the inexperienced. While Kuba artists produced little free-standing figurative sculpture, they placed an emphasis on two distinctive art forms: an unparalleled variety of decorative arts made for personal use as indicators of success and achievement, and an extremely rich range of masks directly associated with men's societies. These societies' primary purpose are the enculturation of youth into the core values of society and the veneration of deceased members of a community.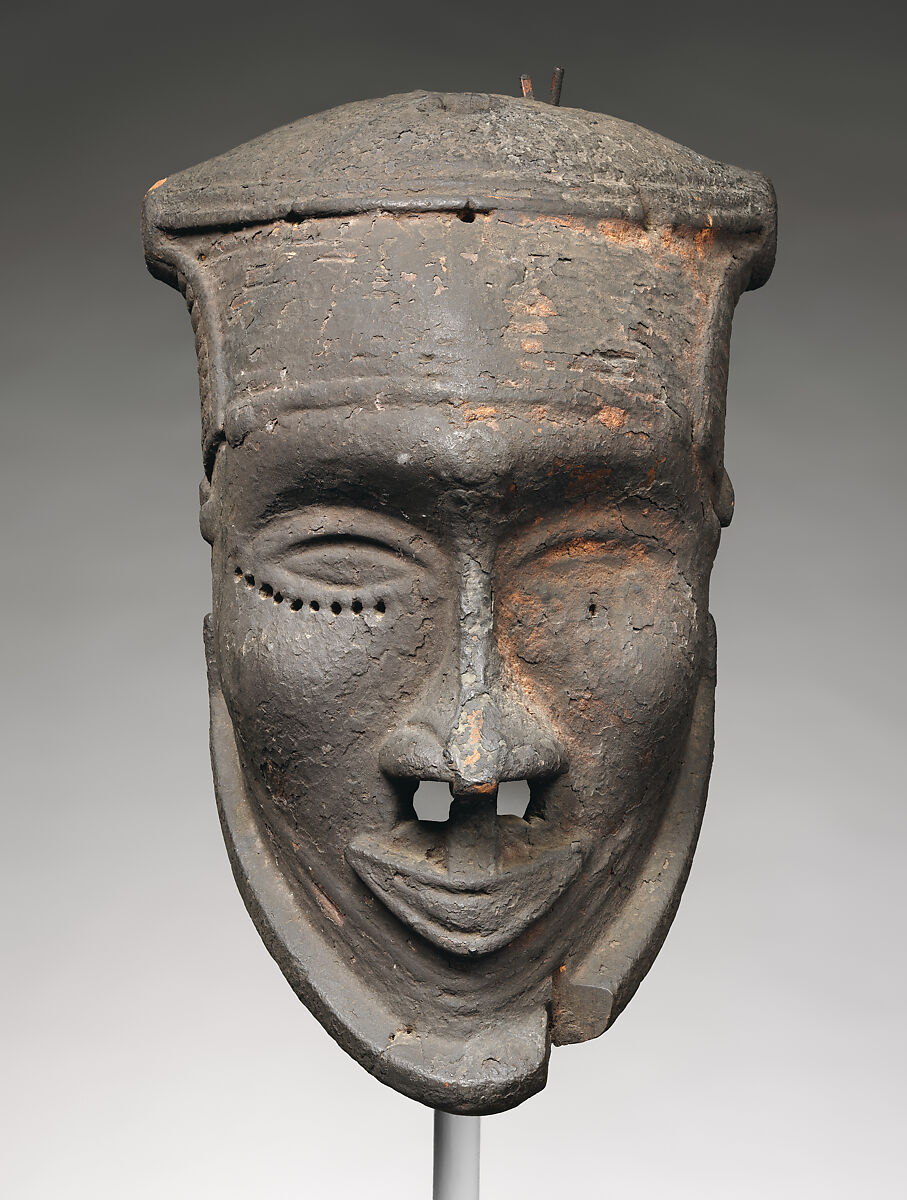 This artwork is meant to be viewed from right to left. Scroll left to view more.