Chinese poem by Hanshan, "My heart is like the autumn moon"
Baisaō Japanese

Not on view
Baisaō was a monk of the Ōbaku sect Zen Buddhism who was also instrumental in establishing the popularity of sencha, Chinese style of steeped tea, in a country that had elevated the practice of matcha, whipped green tea, into a highly ritualized ceremony. Baisaō, whose name literally means the "old man who sells tea," caught the attention of Kyotoites as an itinerant tea peddler. His own poetry and calligraphy, rendered in a radically demonstrative manner, was cherished in his own day and in future generations, especially in sencha circles. Following in the tradition of Ōbaku monks of the seventeenth century who established the Chinese style of Zen at Manpukuji in Uji near Kyoto, he nurtured a bold, dynamic but flowing style of calligraphy. Here Baisaō has inscribed not one of his own Chinese verses, but rather a famous five-syllable verse by Han Shan, the iconoclastic Zen- inspired Tang poet whose "Cold Mountain" poems became popular among Japanese tea adepts:

吾心似秋月
碧潭清皎潔
無物堪比倫
教我如何説

Waga kokoro shūgetsu ni nitari
Hekitan kiyoku shite kōgetsu tari
Mono no hirin ni taetaru wa nashi
Ware o shite ikan ga tokashimen

My heart is like the autumn moon
Shining clean and clear in the green pool.
No, that's not a good comparison.
Tell me, how shall I explain.
(Trans. Burton Watson)

The inscription is followed by the calligrapher's signature and seals, and statement that he had reached the ripe old age of 86 when he inscribed this, three years before he died.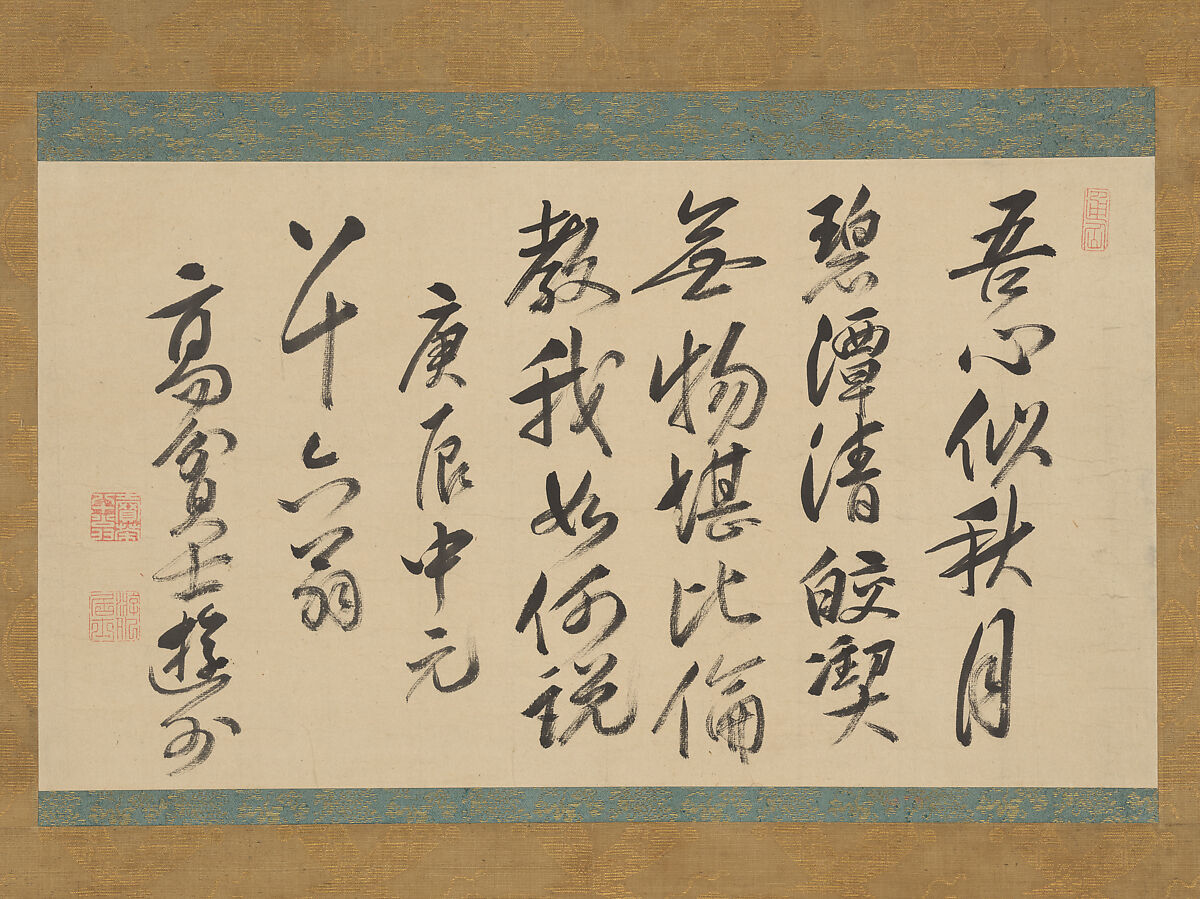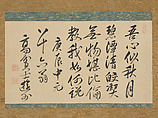 This artwork is meant to be viewed from right to left. Scroll left to view more.