Ingo, San Martin, Cuba
Charles Dewolf Brownell American

Not on view
These two oil studies of Cuba are the first works to enter the American Wing collection by Charles De Wolf Brownell (1822-1909). An American landscape painter influenced by the works of Frederic E. Church and other mid-19th century American landscape painters, Brownell traveled extensively over the course of his career. His family originated from Rhode Island and in the 18th century, his mother's family, the De Wolfs, had extensive landholdings in Cuba, including many sugar plantations. They made their fortune in the slave trade, using the "triangle trade" selling rum to Africa to buy slaves, transported the slaves on their slave ships to Cuba, where the slaves worked on the sugar and coffee plantations, and then transported molasses and other sugar products back to Bristol, Rhode Island, where the De Wolfs owned a rum distillery. The family later moved to Hartford, Connecticut, when Brownell was two years old.



Brownell was fascinated by the natural world and spent his career traveling throughout New England in the summers and spending winters on the island of Cuba, and other tropical locals. He may have been influenced by the writings of the German naturalist and explorer Alexander Von Humboldt (1769-1859), who, among many influential writings, published The Island of Cuba which was translated into English in 1856, and included a chapter on Von Humboldt's abhorrence of slavery. Before he embarked on his career as a landscape artist, Brownell published The Indian Races of North and South America, (1853), an illustrated account of America's native populations. One of Brownell's most important contributions to the American landscape movement is his body of landscapes of the island of Cuba, where he was likely drawn by his family's extensive holdings in numerous sugar and coffee plantations on the island, and where he stayed during his time there. He would winter on the island from 1853 to 1866, producing a comprehensive body of works composed of drawings, watercolors, oil studies and finished oil paintings.




These two cloud studies of Cuba follow the tradition of en plein air painting that Thomas Cole first embraced during his European travels from 1829 to 1832, when he encountered these works by British artists John Constable and J. M. W. Turner, and the myriad European artists working in Italy at the time of his journey. Cole's student Frederic Edwin Church would learn this artistic practice from his teacher Cole, and became a master of the plein air oil study in America and during his extensive travels in South America and other tropical locations. Brownell was deeply influenced by Church, who was a native of Hartford. In his rapidly executed plein air oil study, Sky – Northern Cuba, Brownell captures the dramatic cloud filled blue sky of the tropical island, using shade and shadow to depict the low hanging clouds, and using a loaded brush. A strip of land runs across the bottom of the study and includes tall palm trees blowing in the wind. In the second, Sky – Ingo- San Martin, Cuba, the artist works "Direct – from Nature," as is inscribed on the back, likely in the artist's hand. Here he depicts fleeting clouds against a pale blue sky, in a panoramic composition. A horizontal landscape at bottom includes the suggestion of a sugar plantation at left, a series of palm trees dotting the landscape, and a black native worker dressed in white, wearing a straw hat and carrying a long black staff, seen walking along a fenced path at right.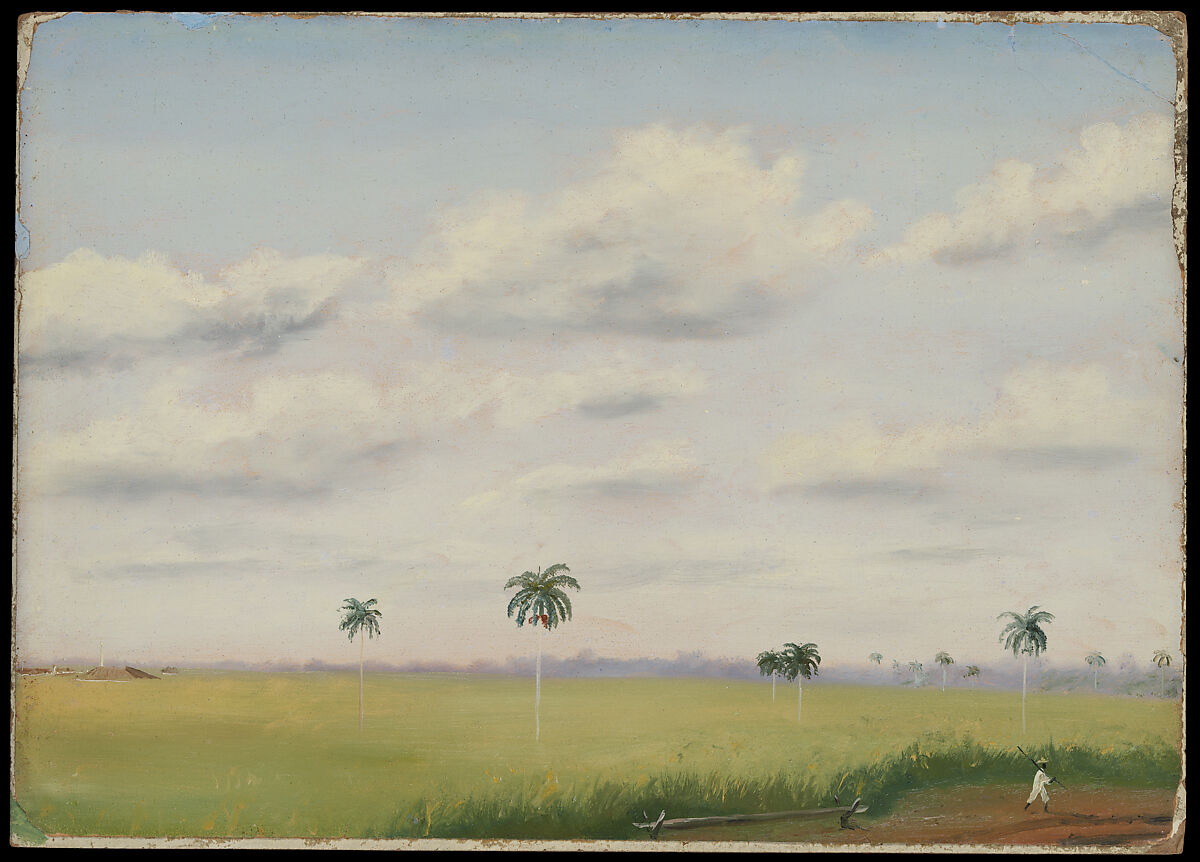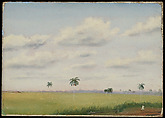 This artwork is meant to be viewed from right to left. Scroll left to view more.