Returned to lender The Met accepts temporary loans of art both for short-term exhibitions and for long-term display in its galleries.
King Yuknoom Took' K'awiil
Sak[...] Yuk[...] Took'
Sak [...] Yib'ah Tzak B'ahlam

Not on view
One of the finest surviving stelae from Calakmul, an impressive city that competed against Tikal for regional primacy, this monument depicts one of that kingdom's last great rulers, Yuknoom Took' K'awiil. Clothed in resplendent finery, he wears a long cape, an elaborate pectoral, and a serpentine headdress that reveals his curly hair. He grasps a spear in his right hand and stands on a captive, a visual convention for representing military prowess. His royal name links him with the lightning god K'awiil, underscoring his close connection with godly power. The finely incised text to the left of the king's face records the names of the two sculptors.



Sak[…] Yuk[…] Took' and Sak[…] Yib'ah Tzak B'ahlam (maya, activo en el siglo VIII)
Rey Yuknoom Took' K'awiil
Estela 51, Calakmul, México
731
Piedra caliza


Procedente de Calakmul, impresionante ciudad que compitió con Tikal por la supremacía regional, esta es una de las estelas sobrevivientes más hermosas. Muestra a uno de los últimos gobernantes del poderoso reino, Yuknoom Took' K'awiil, ataviado con resplandecientes prendas, una capa larga, un complejo pectoral y un tocado serpentino que deja ver su pelo rizado. El hecho de que esté parado sobre un cautivo y lleve una lanza en su brazo derecho destaca su destreza como guerrero. Su nombre real lo relaciona con K'awiil, el dios del rayo, y enfatiza su estrecha relación con el poder divino. El texto finamente labrado, ubicado a la izquierda de la cara del rey, contiene los nombres de los dos escultores.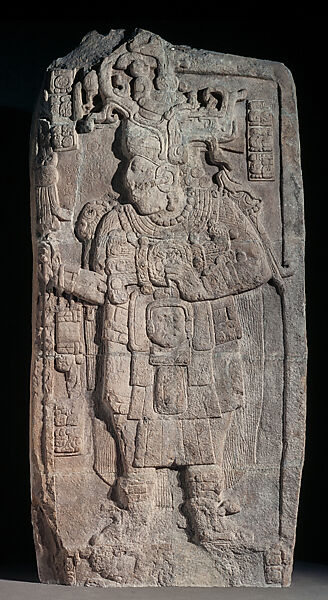 This artwork is meant to be viewed from right to left. Scroll left to view more.