Small Kneeling Youth
George Minne Belgian

On view at The Met Fifth Avenue in Gallery 829
Trained at the Royal Academies of Fine Art in Ghent and Brussels, George Minne is acknowledged to be Belgium's foremost early modernist sculptor. His deeply personal works bridged the fin-de-siècle symbolism of Rodin and influenced the bold expressionism of early twentieth-century artists such as Kokoschka, Barlach, and Lehmbruck. Minne developed his distinctive style early on, and his simplified figures shown in attitudes of sorrow, contemplation, and suffering immediately caught the attention of critics. In an 1889 review of Minne's first exhibition at the Salon in Ghent, the critic Émile Verhaeren characterized the sculptor's art, writing: "He explores the plastic from simple, naïve, and primitive moments, contrary to every convention and achievement . . . and he concentrates on a special world full of melancholy and religion, like a medieval stone mason in whose footsteps he walks…"




Small Kneeling Youth was modeled in 1896, one year after Minne moved to Brussels and embarked on a concentrated period of creative exploration that culminated in 1898 with his large-scale masterpiece, The Fountain with Kneeling Youths. During this time, Minne was preoccupied with the expressive motif of the kneeling figure, which evolved from his St. John the Baptist (1895) – a composition that captures the essence of Minne's lifelong engagement with the religious spirituality of the Middle Ages – towards the isolated figure of a kneeling, introverted youth. The Small Kneeling Youth registers Minne's pivotal transition from an earlier, expressive style, inspired by late-gothic woodcarving, to his mature, avant-garde style of elongated forms enhanced by sharp lines, taut surfaces, and gentle curves. Upright but shuddering beneath the enigmatic burden of his sorrow, this youth symbolizes the ambivalent condition of the human spirit in crisis at the dawn of the modern age.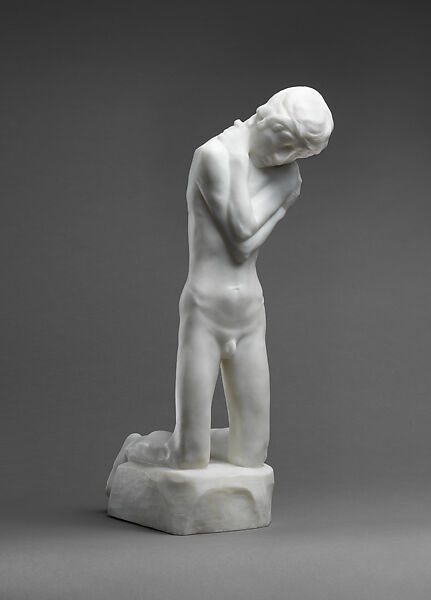 This artwork is meant to be viewed from right to left. Scroll left to view more.