Shirt
Not on view
"When the 'Dolls' folded Malcolm returned to Vivienne. Her latest design was an anarchy shirt—distressed to look old, with bleached-out stripes, and appliquéd with badges, flags and slogans: 'Only anarchists are Pretty!,' 'Dangerously close to Love,' 'We are not afraid of Ruins,' 'Chaos,' and a woven label from Chinatown of the portrait of Karl Marx, to which Malcolm added a swastika. This shirt looked as if it belonged to an urban guerilla and Malcolm saw in it the key to a new collection of clothes. All the current themes—rips, zips, porn, slogans, bondage and chains–were pressed into service and punk style was born" (Gene Krell, Vivienne Westwood [New York, 1997], p. 12).
This shirt epitomizes punk style and ideology. A similar shirt has been well documented in period photography as being worn by Johnny Rotten, lead singer of the Sex Pistols, and Sid Vicious, the group's bass player. It is thought that many of the expensive SEX garments worn by the Sex Pistols, which were given to them by McLaren and Westwood for promotion, were single garments passed around from band member to band member on a day-to-day basis.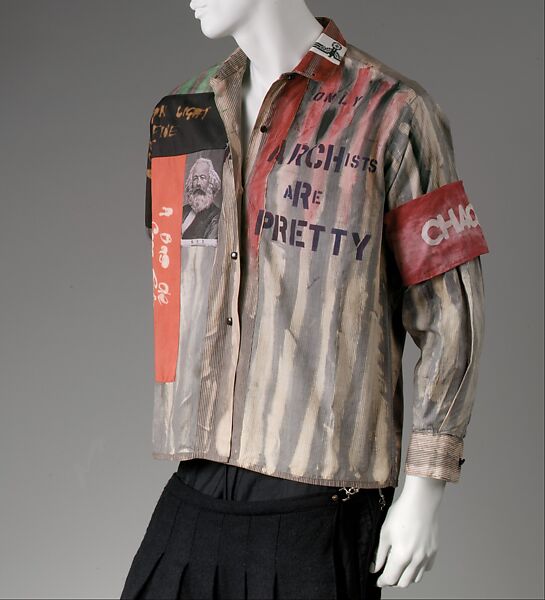 This artwork is meant to be viewed from right to left. Scroll left to view more.