Elector Maximilian II Emanuel of Bavaria on Horseback
Roger Schabol Flemish
After a design by Martin Desjardins

On view at The Met Fifth Avenue in Gallery 528
This bronze equestrian group represents Elector of Bavaria Maximilian II Emanuel (r. 1679-1726) on rearing steed, triumphantly vanquishing a fallen enemy sprawled below. Maximilian likely commissioned the work directly from the artist, Roger Schabol, to commemorate the Elector's 1686 military victory over the Ottoman Turks at the Siege of Belgrade. An enigmatic sculptor and founder active at the court of Louis XIV, Schabol signed and dated the work along the front edge of the base. Little is known about the artist, making this superbly cast bronze an invaluable contribution to his oeuvre. Schabol came from Brussels to Paris in the 1680s, where by 1687 he is documented as part of a team of sculptors active on the Parterre d'Eau at Versailles. Schabol developed expertise casting equestrian monuments working alongside notable sculptors like Francois Girardon and Martin van den Bogaert, known as Desjardins. Schabol probably owned models by Desjardins and had the authority to reproduce them.

Here, he adapted the composition of Desjardins' planned equestrian sculpture of Louis XIV for Aix-en-Provence to celebrate the Bavarian Elector, inserting the latter's features and armor into the design. An earlier statuette of the Elector on horseback, signed and dated 1699, is in the Germanisches Nationalmuseum, Nuremberg. Schabol's prowess at casting bronze, with his signature refinements and fastidious chasing, is on full view here. The work is a superbly cast assemblage of multiple parts, and remarkably preserves much of its red and golden lacquer and its original ornamental gilt base.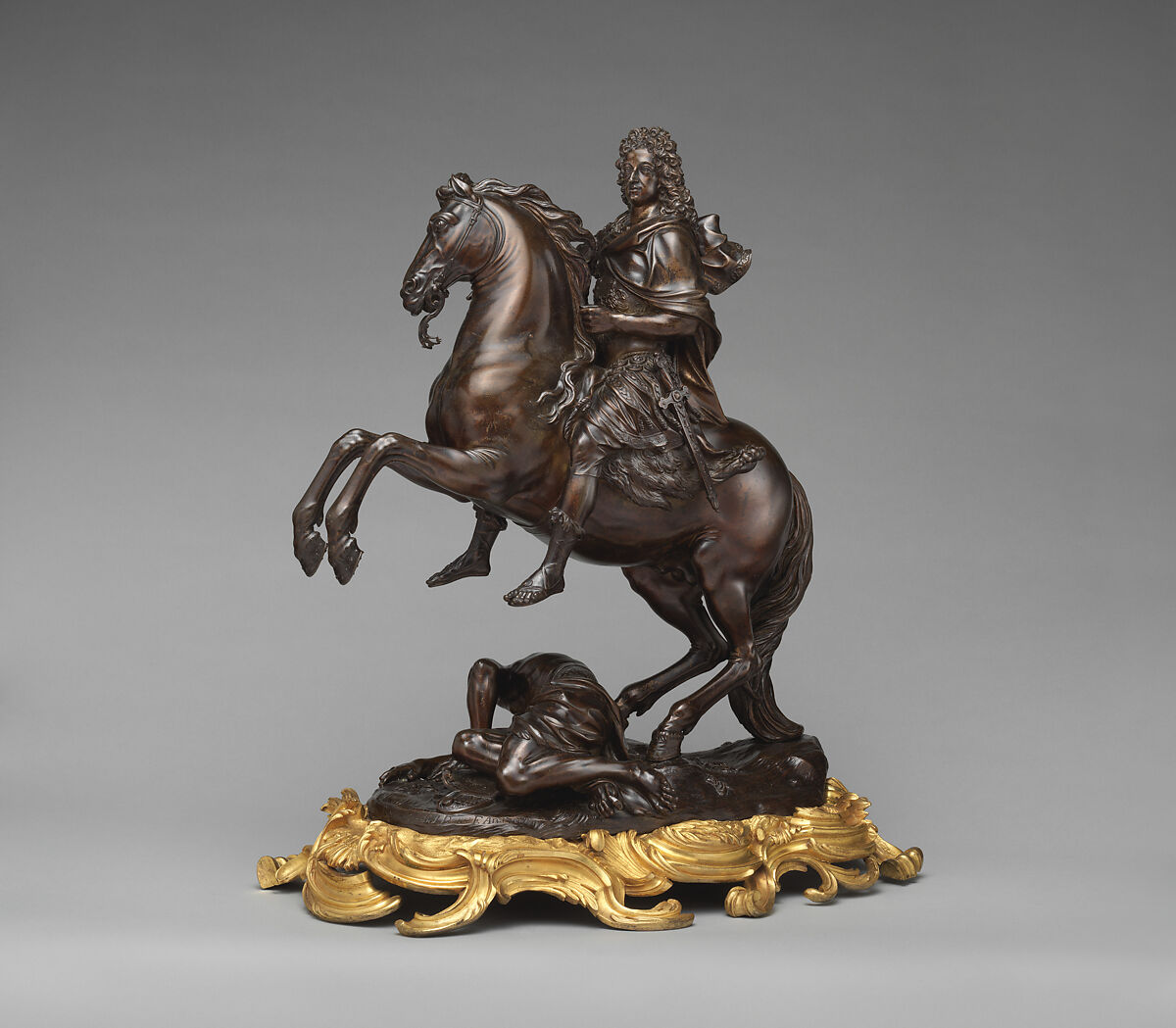 This artwork is meant to be viewed from right to left. Scroll left to view more.