Chinese Poem Lamenting the Death of a Friend
Ryōkan Taigu 良寛 Japanese

Edo period (1615–1868)
Not on view
To those trained in how to read and write kanji (Chinese characters), the calligraphy of Monk Ryōkan in this example may come across at first glance to be slightly off balance, out of alignment, and almost childish in appearance. But this disarmingly simple, artless, and exuberant style of brush writing—utterly individual and idiosyncratic—earned Ryōkan esteem as one of the great monk calligraphers of all time. Though he trained as a Sōtō Zen monk under Abbot Kokusen at Entsūji Temple, and was offered the position of head of the temple after his master died, he renounced the rigors of a monastic regimen and instead decided to live mostly as a recluse and earned the reputation of being an eccentric. He was dedicated to writing poetry in both Chinese and Japanese (especially seventeen-syllable hokku), and examples of his verse brushed in his own distinctive hand were avidly sought, both in his own day and into the present (see also 2018.853.29 in The Met's collection for an example in highly cursive style).

Inscribed in small standard script (shōkai 小楷書), the example here is a Chinese verse composed by Ryōkan himself written in five-character lines (gogonshi). This poem is one of two poems of lament written to commemorate the death of Tomitori Yukinori 富取之則, a son of a wealthy local merchant who was one of Ryōkan's closest friends from childhood. They studied together at Sanpōkan 三峰館 or Kyōsen-juku 狭川塾, a private school established by the Confucian scholar Ōmori Shiyō 大森子陽(1738–1791) The poem is deciphered and translated below.

昨日出城市 Sakujitsu jōshi ni ide
千門乞食之 senmon kotsujiki su
路逢有識人 michi ni aishi ushiki no hito
道子黄泉歸 iu shi yomi ni kiseri to
忽聴猶疑夢 tachimachi kikite nao yume to utagaedo
心定涙沾衣 kokoro sadamarite namida koromo o nurasu
与子自小少 shi towa shōshō yori
往還狭河陲 ōkan su kyōka no hotori
啻不同門朋 tada dōmon no tomo ni nomi arazu
共?存丘壑期 tomo ni arishi kyūgaku no toki
家郷分飛後 kakyō yori bunpi shite nochi
消息両離支 shōsoku futari nagara rishi tari
如何揺落候 ikan zo yōraku no kō
棄我草莽萎 ware o sute sōmō nae tari
聚散自有定 shūsan onozukara sadame arite
誰能長追随 dare ka yoku nagaraku tsuizui sen ya
巳矣復何陳 yannuru kana mata nani o ka noben
飛錫獨歸來莢 shaku o tobashite hitori kaeri kinu

I went out to visit the town, yesterday, 
to beg at the gates of a thousand homes.
Along the way, I met a friend of long ago, 
who said he thought I had passed away.
As I listened to his story, it was like an unreal dream,     
though as it started to sink in, I sobbed.
When he and I were young, we went back and forth
along the bank of Kyōsen River.
And not only were we good friends from school,
but also we also viewed scenery together.
After I had left our hometown
we had no news from each other.
How at this time of falling leaves
you could leave me withering in the field
Gathering and leaving are part of destiny in life,
who does pursue forever
Saying anything now is just in vain
and walking with a monk's staff, returned alone.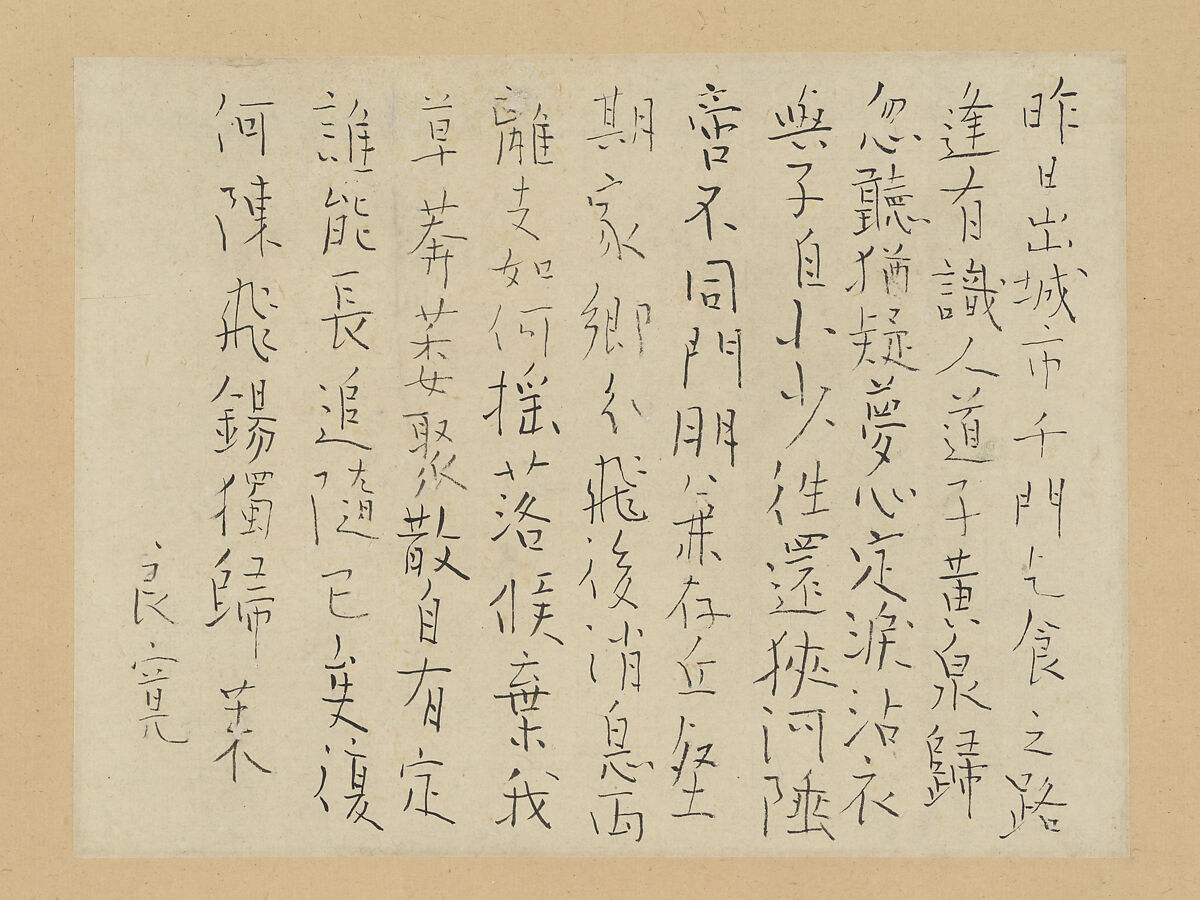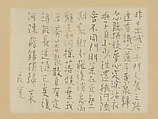 This artwork is meant to be viewed from right to left. Scroll left to view more.