Banana Leaves
Itō Jakuchū 伊藤若冲 Japanese

Not on view
In a bold, graphic composition, overlapping leaves of a banana plant with have been rendered in expanses of pale gray ink and the so-called sujime-gaki, or "white-line drawing,technique. To achieve this effect, the artist carefully applied moist brushstrokes to the soft and absorbent gasenshi paper in such a way as to leave a narrow, unpainted space between them, resembling a white line.

Itō Jakuchū was counted as one of the Three Eccentrics of the Edo period, together with Soga Shōhaku (1730– 1781) and Nagasawa Rosetsu (1754–1799). Born the eldest son of a wholesale grocer in Kyoto, Jakuchū inherited the family business and ran it for more than fifteen years. It was not until he reached his late thirties that he began to paint full-time.

The round seal reading "Lay Buddhist devotee Jakuchū" is the one the artist cherished and used most, especially during his late career, but it also appears on works created by his pupils, so caution must be exercised in separating studio creations from those of the master. For reasons unknown, there has always been a break in the circular outline on the left side of this seal; a second small break, on the right side, begins to appear in later works, as here. The vertical rectangular seal above it, "Seal of Tō (Fujiwara)," was also a favorite of Jakuchū's. The seal in the lower left corner reading Senga zeppitsu can be interpreted to mean, "a thousand paintings, each one [created as if it were] my last one"—certainly a sentiment shared by many artists.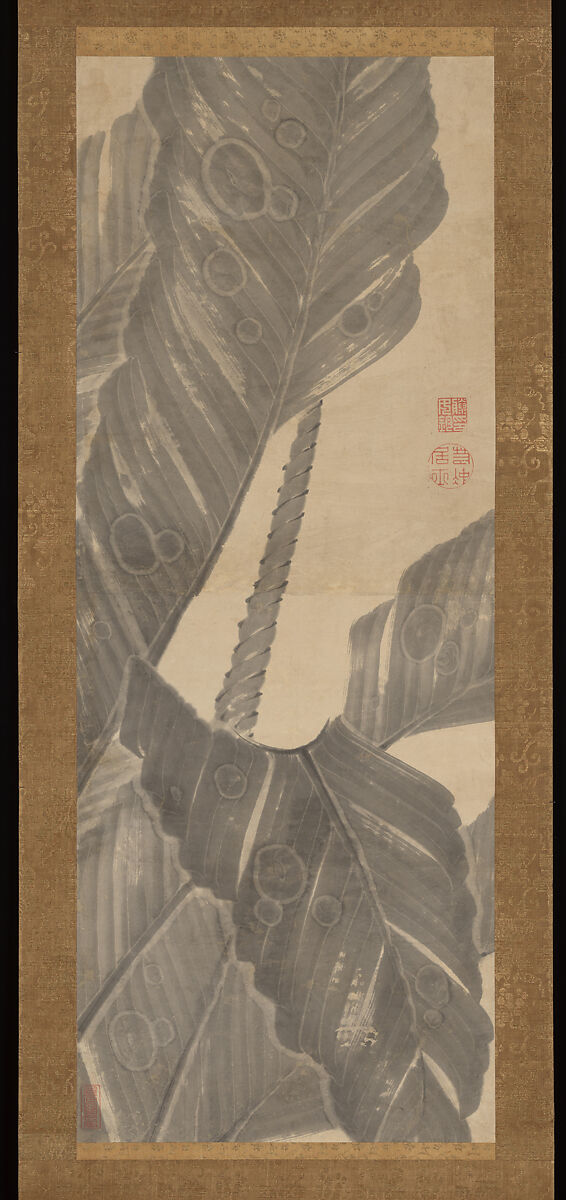 This artwork is meant to be viewed from right to left. Scroll left to view more.