Returned to lender The Met accepts temporary loans of art both for short-term exhibitions and for long-term display in its galleries.
Bust of Hora
Jean-Pierre Dantan, the Younger French

Not on view
After slavery was abolished in France's colonies in the Caribbean, French imperialists shifted focus to the economic opportunities afforded by the violent expansion of colonial influence and rule in North Africa. Dantan-Jeune traveled to the region in 1848 to sketch its residents from life. This bust of an Ethiopian youth named Hora was produced during his stay in Cairo. The work's inscription, "Gala" ("Galla"), is a racial epithet used to describe the Oromo people, the ethnic group to which the boy belonged. The work exhibits the artist's interest in combining the Western convention of the classicizing portrait bust with new pseudoscientific theories of ethnography and phrenology, which sought to categorize individuals based on physical attributes such as skin tone, facial proportions, and skull shape.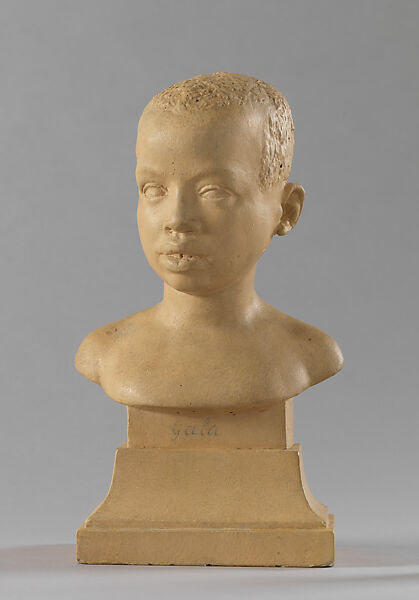 This artwork is meant to be viewed from right to left. Scroll left to view more.