Nine Auspicious Symbols of Longevity and Prosperity
Tomioka Tessai 富岡鉄斎 Japanese

Not on view
This work is a colorful landscape filled with auspicious symbols of longevity. In the center, the gray-bearded man sitting in a thatched pavilion can be identified by his elongated forehead as Jurōjin, the Daoist deity of longevity. A red-crowned crane, associated with marital fidelity and longevity, is perched by his side. Nearby, a pair of rugged pine trees stand tall, their long needles likewise symbolizing long life. Red auspicious fungi grow at the base of the pines, believed to extend one's life span if they are ingested as part of elixir. A precipitous waterfall flows from the lofty green mountains, dotted with Mi dots, large ink dots that representing lush pines. Above the hills, a red sun and a blue crescent moon complete the auspicious scene.

The inscription comprises an excerpt from the poem "Protecting the Heavens: (Chinese: Tian bao; Japanese: Tenhō 天保) from the Classic of Poetry (Shijing, which comprises over 300 poems dating from the eleventh to the seventh centuries BCE). In the right upper corner above the image, Tessai brushed the verse in cursive script with short yet assertive brushstrokes. It can be deciphered and tentatively translated as follows:

如山如阜如岡如陵如川之方至
如月之恒如日之升如南山之
寿如梥柏之茂

Japanese pronunciation:
山の如く阜の如く岡の如く陵の如く川の方に至るが如し
月の恒の如く日の升るが如く南山の寿の如く梥柏の茂る如し

Like the mountains, and like the hills,
Like the topmost ridges, like the grand forms,
Like the river that flows and continues to fill,
[….a few lines are omitted by Tessai]
Like the moon that never wanes,
Like the sun that always rises ,
Like the longevity of the Southern Mountains,
Like the lushness of the pine….

(Translated by Tim Zhang)

This ancient poem was dedicated to congratulating the newly crowned kings of the Zhou dynasty (1050–221 BCE). It uses the metaphor of the eternal aspect of nature to pray for the longevity of the newly inaugurated rulers. The seemingly primitive and repetitive phonetic pattern of the poem nevertheless effects a strong rhythm. This poem became a pictorial theme in the Ming and Qing dynasties and was also taken up by artists in Japan. The signature suggests that this inscribed painting was created on the second birthday of Emperor Taishō during his reign, as a way of expressing a wish for the emperor's longevity.

Tomioka Tessai was a Japanese painter and calligrapher who was one of the leading figures of the Bunjinga literati painting style during the Meiji and Taishō periods. Having received traditional training in Chinese painting styles, he is often considered the last and best of the Literati painters in Japan due to his deep cultivation of Chinese literature and art. Tessai was also a court painter for the imperial family later in his career and was occasionally commissioned to create works for the for the royal family.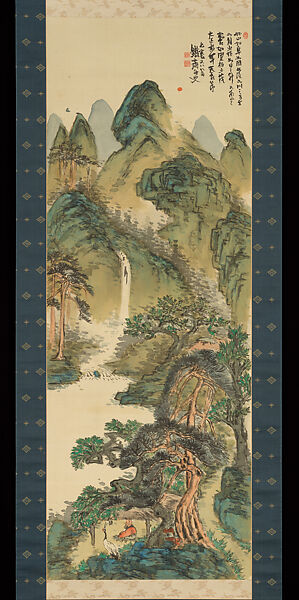 This artwork is meant to be viewed from right to left. Scroll left to view more.