Escape from Fantasylandia : an illegal alien's survival guide
Enrique Chagoya American

Not on view
Drawing on his experiences living on both sides of the United States-Mexico border, as well as his journey to U.S. citizenship, Enrique Chagoya provides viewers with harmless popular characters as deceptively friendly points of entry to contemplate a much more serious message. By juxtaposing familiar pop icons with a historical lexicon of pre-Hispanic religious symbols, Chagoya addresses the issue of immigration with coy, satirical humor.


In form, Chagoya's books follow their Mesoamerican antecedents, using amate paper (made from wild fig tree bark) folded in the traditional accordion style, read from right to left, and paginated with Mayan numerals. Some of the images used in this work are explicit allusions to the Florentine Codex, a 16th century chronicle of Mixtec culture and the Spanish conquest of Tenochtitlan. Quetzalcoatl—a feathered serpent deity from the Aztec pantheon—stretches across the top of this single-sheet lithograph, while panels underneath reference recent headlines that portray the collapse of the United States as an economic and utopian promised land: a meteor shower falling on a graph depicting the declining value of a hedge fund; a house on fire alluding the mortgage crisis; and a man resting in a hammock above a 9.2% figure, referencing the unemployment rate at the time.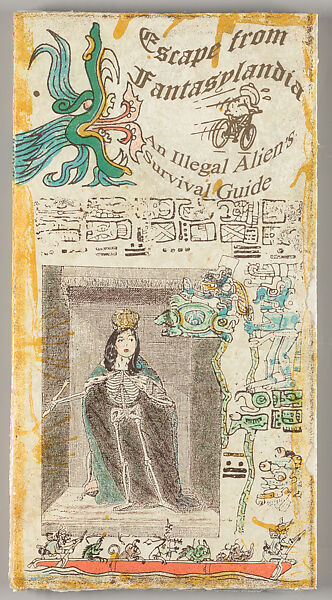 This artwork is meant to be viewed from right to left. Scroll left to view more.