On loan to The Met The Met accepts temporary loans of art both for short-term exhibitions and for long-term display in its galleries.
The Daoist Immortal Magu
Kōboku Japanese

On view at The Met Fifth Avenue in Gallery 229
This image is likely of Magu (or Mako in Japanese), a female immortal who lived as a recluse in the wilderness, searching for potent plants and fungi that promised to prolong life. Here she emerges from the woods carrying her finds: a basket of flowers and a piece of ginseng root. Magu is accompanied by a monkey who holds a peach, a symbol of immortality. Although little is known about the artist, many of Kōboku's works were derived from images created by Zen monk-painters in eastern Japan. This work forms a pair with a scroll, now in the Cleveland Museum of Art, showing another female immortal attended by a deer.

On view for rotations 1 and 2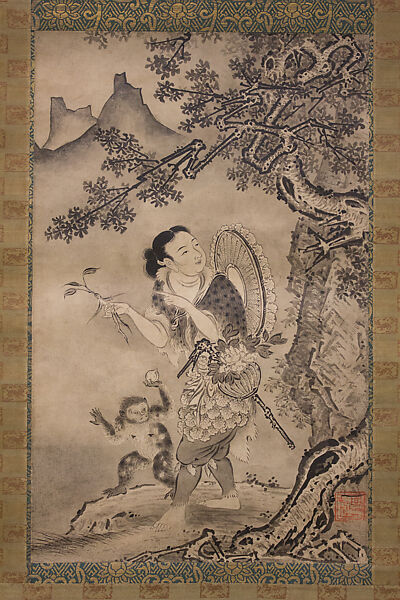 This artwork is meant to be viewed from right to left. Scroll left to view more.