Kresby z koncentráku : 61 puvodnich litografií
Ota Matoušek Czechoslovakian

On View Gallery Watson Library

This limited-edition publication by Ota Matoušek features sixty one lithographs depicting daily life at Flossenbürg concentration camp, located in a remote area in the Fichtel Mountains of Bavaria, near the border of Germany and Czechoslovakia. The frontispiece is signed by Matoušek, and the title page contains an inscription in Czech from the artist to a fellow concentration camp survivor which translates as: "To My Friend Vladimir Svobodov, in commemoration of our time together during the period of Nazi persecution in the concentration camp. Cordially, Ota Matoušek. May 31, 1946." One of 200 numbered copies, this copy is from the first 100 on bílém (white) paper.


Matoušek was a founder of The Association of South Bohemian Artists and a member of the Myslbek Association of Fine Artists. He designed materials for the Czechoslovakia Legion, including woodcuts and linocuts.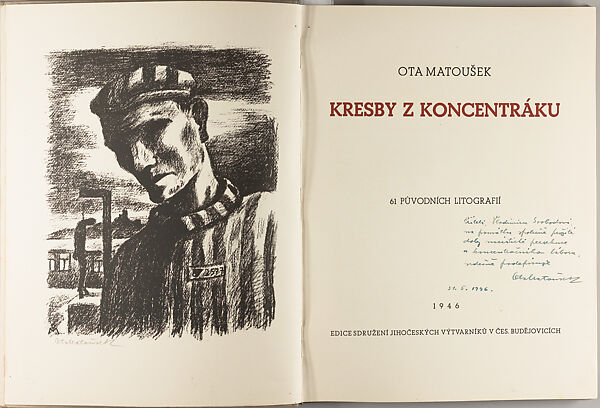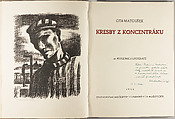 This artwork is meant to be viewed from right to left. Scroll left to view more.