Dora, Auschwitz, Buchenwald, Bergen-Belsen, croquis clandestins
Author Léon Delarbre French

On View Gallery Watson Library

Delarbre was a French painter, museum curator at the Belfort Museum in Northeastern France, and a resistance fighter. In 1944, he was arrested by the Nazis and held in a series of concentration camps where he sketched scenes of everyday life. He used paper scraps and printed ordinances to draw what he saw: anguishing scenes of suffering in the camps. This publication, which translates into Clandestine Sketches, illustrates forty four of his drawings. Delarbe is known for his drawing of the Musselman character, a slang term used by Jewish prisoners to describe a malnourished victim resigned to their fate.


The following note from the editor describes the process of reproducing Delarbre's drawings: "Leon Delarbre's drawings are reproduced as he brought them from Germany. As soon as he arrived at the reception center of the Lutetia hotel, he handed them over to his friend, the painter Kean Bersier, who gave them to us as they were without any alterations being made to them. In the procedures employed for reproduction, we have similarly imposed on ourselves a rule of exact fidelity. We have only been led sometimes for the needs of the layout or for greater clarity to reduce or increase the format of certain drawings: in this case the dimensions in centimeters of the original appear in the legend that we will always find on the page. If certain backgrounds sometimes take on a greyer tint, the fact is explained by the conditions in which Leon Delarbre worked: using as support everything he could get hold of, he did not always have white paper or even clear paper."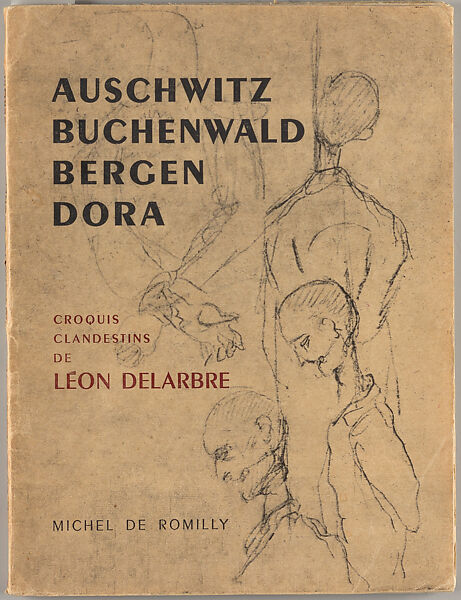 This artwork is meant to be viewed from right to left. Scroll left to view more.