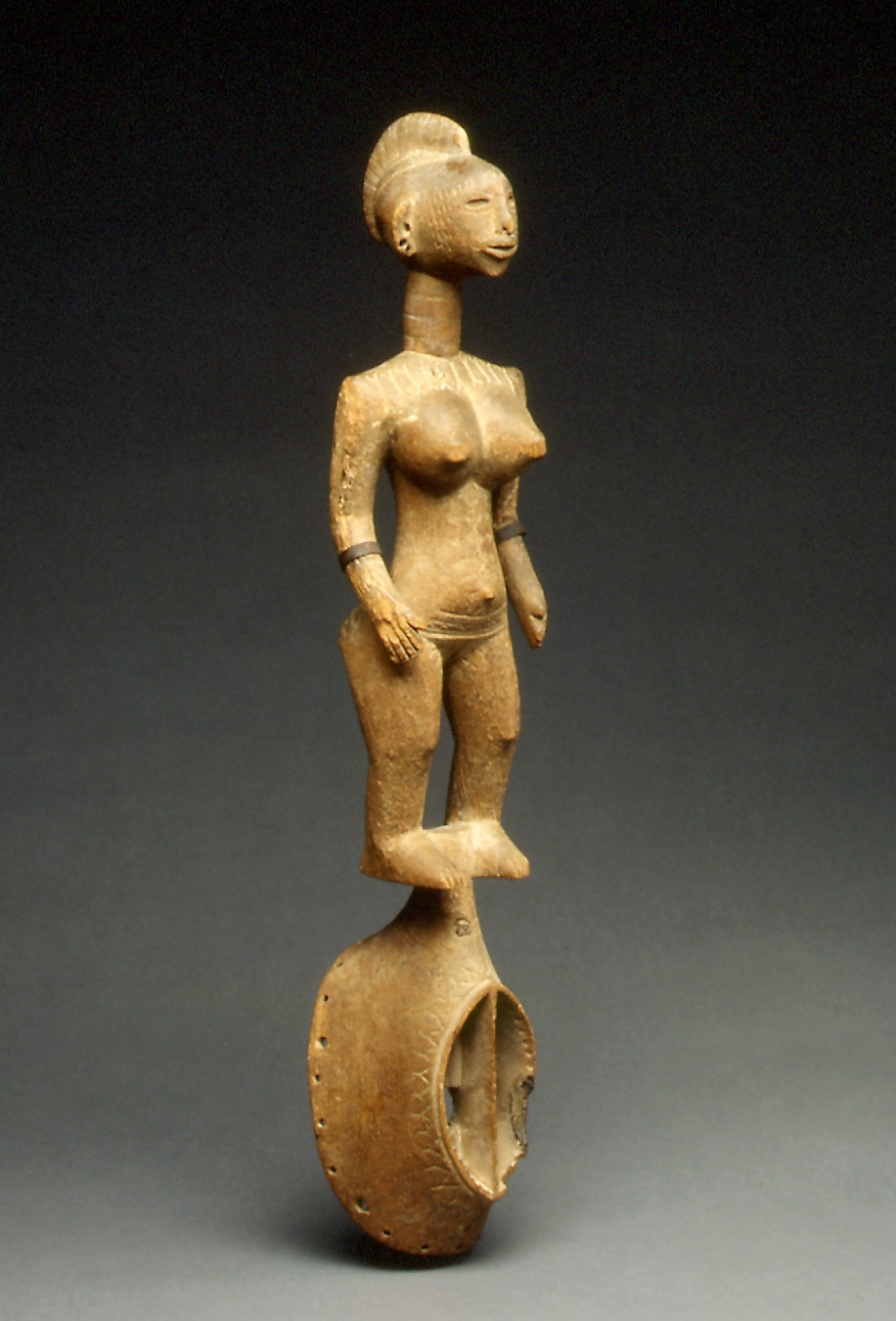 ---
Mask with Female Figure, 19th–20th century
Mossi peoples; Burkina Faso
Wood, metal; H. 29 1/2 in. (74.9 cm)
The Michael C. Rockefeller Memorial Collection, Bequest of Nelson A. Rockefeller, 1979 (1979.206.84)

Mossi masks that feature full-bodied female figures at the summit are known as karan-wemba. Like other peoples of the West African savannah region, the Mossi have funerals that celebrate the memory of deceased elders with performances of music, masks, and dance. Masks such as these are commissioned and carved for the funeral of an elderly Mossi woman, or wemba, a widow with adult, married children, who returns to her natal village to live with her own family in her old age. The mask is worn at a wemba's burial to honor her and celebrate the departure of her soul to the world of the ancestors. Because of her great age and numerous offspring, she is highly respected within her community. A wemba is considered a living ancestress—an ideal intermediary between the living and ancestors that have since departed. The figure that is the focal point of the mask represents the woman in the prime of young adulthood—the incised markings on the figure's body are analogous to scarification patterns traditionally applied to Mossi women after the birth of her first child. Additional curvilinear and geometric incisions encircle her buttocks and may represent waistbeads, a traditional mode of body decoration in Mossi culture. The crest-shaped coiffure, metal armlets, and pierced ears further enhance the beauty of the figure and reflect Mossi styles of personal embellishment.
This particular mask is very similar in style to several other karan-wemba in Western collections that may be the work of one artist, or of one workshop supervised by a master carver. It comes from the northern Mossi region and belongs to the Yatenga substyle. Yatenga-style masks are characterized by concave, oval faces bisected vertically by a ridge, surmounted either by horns and a tall plank; a female figure on a plank or standing alone; or occasionally the stylized figure of a bird with outstretched wings. Mossi masks such as these also exhibit some resemblance to the masquerade traditions of neighboring ethnic groups like those of the Dogon peoples of Mali. Such similarities are indicative of the origins of Mossi culture as a synthesis of many diverse ethnic groups during the fifteenth century.
Although this artwork appears on the 20th-century segment of the Timeline, it is ascribed a date of 19th–20th century.
Related