Model of a procession of offering bearers
Middle Kingdom
On view at The Met Fifth Avenue in Gallery 105
This funerary procession was discovered in a hidden chamber at the side of the passage leading into the rock cut tomb of the royal chief steward Meketre, who began his career under King Nebhepetre Mentuhotep II of Dynasty 11 and continued to serve successive kings into the early years of Dynasty 12.

Two men and two women, probably Meketre's sons and daughters, walk in step on a narrow base. Its yellow color places the scene in the desert on the way to the tomb. The first man carries a large libation vase and an incense burner for use in an offering ritual; the second balances a pile of linen on his head. One linen sheet is dyed red. Linen was an indispensable part of every Egyptian burial: the mummified body was wrapped in it, and folded linen sheets filled the coffin above the mummy. Both women have baskets–the first containing beer bottles and conical loaves of bread, the second containing square loaves–and both women hold geese or ducks by their wings. Together the group is equipped with all the essentials for a proper burial and funeral ritual.

All the accessible rooms in the tomb of Meketre had been robbed and plundered already during Antiquity; but early in 1920 the Museum's excavator, Herbert Winlock, wanted to obtain an accurate floor plan of the tomb's layout for his map of the Eleventh Dynasty necropolis at Thebes and, therefore, had his workmen clean out the accumulated debris. It was during this cleaning operation that the small hidden chamber was discovered, filled with twenty-four almost perfectly preserved models. Eventually, half of these went to the Egyptian Museum, Cairo, and the other half came to the Metropolitan Museum in the partition of finds.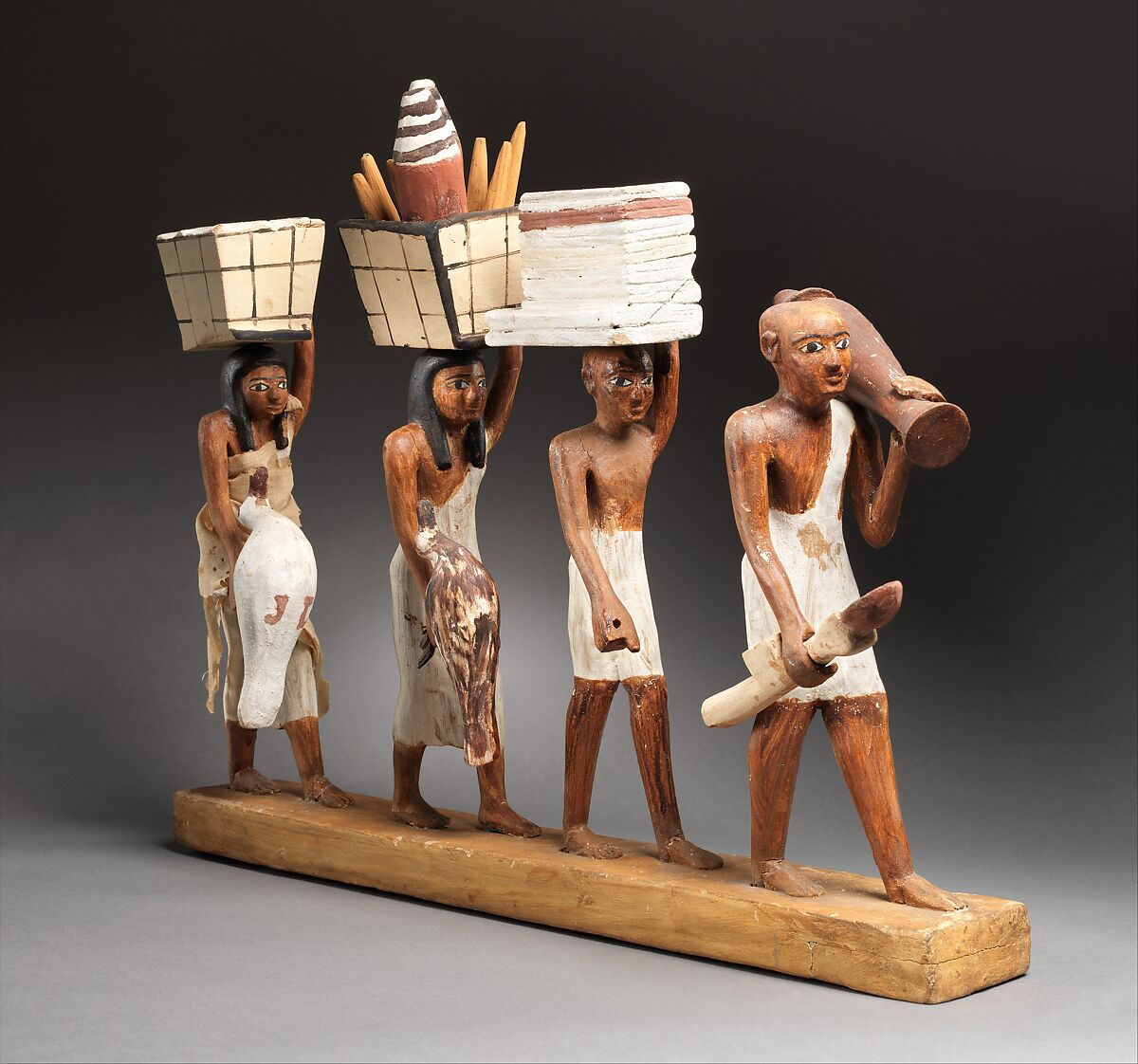 This artwork is meant to be viewed from right to left. Scroll left to view more.