"Irudree"
Designer Paul Poiret French

Not on view
Paul Poiret's technical and commercial innovations were fundamental to the emergence and development of modernism. Yet despite ushering in the new movement, Poiret rejected its postwar embrace of the aesthetic of the engineer governed by functional rationality. In the face of modernism's repudiation of explicit narratives, decorative strategies, and historical references, Poiret continued to endorse the ideal of artistic originality and the aesthetic of artisanal workmanship.
Poiret's vision of beauty was also at odds with la garçonne, the feminine archetype of modernism. While Denise Poiret's slender, small-boned figure was the prototype for that boyish silhouette, Poiret dismissed its emphasis on androgyny, describing its followers as "Cardboard women, with hollow silhouettes, angular shoulders and flat breasts. Cages lacking birds. Hives lacking bees." Poiret's ideal of beauty still clung to his wife's body type—that is, slight but not bony, irrefutably feminine and never androgynous. Poiret's rejection of modernism on the grounds of ideology and aesthetics resulted nevertheless in designs of remarkable structural modernity. The "Irudrée" gown of 1923, for instance, is particularly noteworthy for its reductive simplicity.
The skirt is made from two pieces of fabric sewn selvedge (either of the loom-finished woven edges of a length of fabric) to selvedge and gathered at the waist of the bodice. In turn, the bodice is made from one length of material with no side seams, and Poiret used the selvedge of the material to define the neckline. Indeed, with its emphasis on process and truth to materials, "Irudrée," despite the historicizing low-slung tubular rouleau that is a nod to the hip roll, or farthingale, of the Renaissance, stands as an icon of modernist design.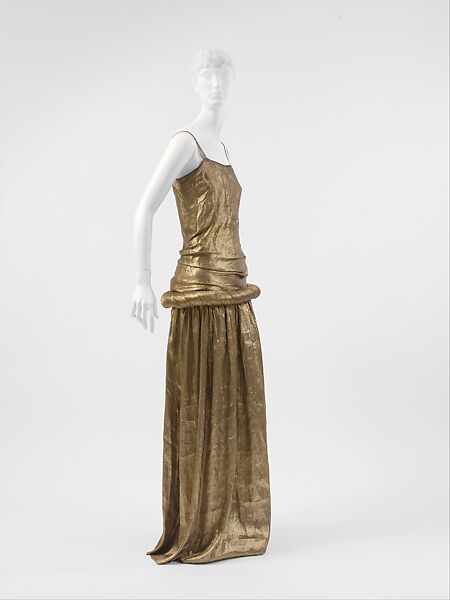 This artwork is meant to be viewed from right to left. Scroll left to view more.