Bust of a Roman
Not on view
This mysterious bust, with furrowed brow, receding hairline, and smoothly, even uncannily polished curls and facial hair, was once in the collection of Mme d'Yvon, along with Antico's bust of Antoninus Pius (cat. 12). In the 1892 auction catalogue, the bust is described as portraying an old man, with gilding on the figure's mantle,[1] and identified as sixteenth-century Italian. The nearly identical language used to describe Antico's bust, as well as their consecutive placement in the sale listing, suggest the two busts were displayed together.[2]

Though the Antoninus Pius has since been elevated to a celebrated work by Antico, the author and dating of the present bust remain unclear. In the 1939 sale of the Berwind collection, it is described, implausibly, as by Pietro Tacca. Its origins were placed in northern Italy when it sold with the Heim Gallery in 1967 to Judge Untermyer, before entering The Met. Around the same time, Francesco Cessi put forth the medalist and sculptor Giovanni da Cavino as the author, and identified the subject as one of Cavino's patrons, the law professor Marco Mantova Benavides. Cavino's work as a sculptor remains unknown, and Cessi's proposal is ultimately unconvincing. James David Draper suggested it belonged to the generation of northern artists after Antico's death in 1528 and pointed to parallels between this bust and those by the sculptor Ludovico Lombardi, particularly a bust of an emperor in the Liechtenstein collection.

The range of potential authors and the lack of identifiable models lead to the conclusion that our bust is not a product of the mid-sixteenth century. Instead, it is likely a seventeenth-century pastiche meant to evoke ancient Roman portrait busts, with which it bears certain affinities, particularly of the third century A.D. Could it have been intended to be placed in dialogue with such ancient busts—or a work akin to the Antoninus Pius—in a Baroque palazzo? Our Roman was originally gilded and thus would have made a particularly resplendent pairing with Antico's man.
-JF

Footnotes
(For key to shortened references see bibliography in Allen, Italian Renaissance and Baroque Bronzes in The Metropolitan Museum of Art. NY: The Metropolitan Museum of Art, 2022.)


1. Currently obscured by later coatings that may have darkened over time. R. Stone/TR, 2011.
2. A photo of the gallery containing the bust is reproduced in the sale catalogue between pp. 68 and 69. The bust is shown in the corner, next to a reduction of Bernini's Apollo and Daphne. Only this one corner of the gallery is shown and it is unclear how the Antoninus Pius was installed.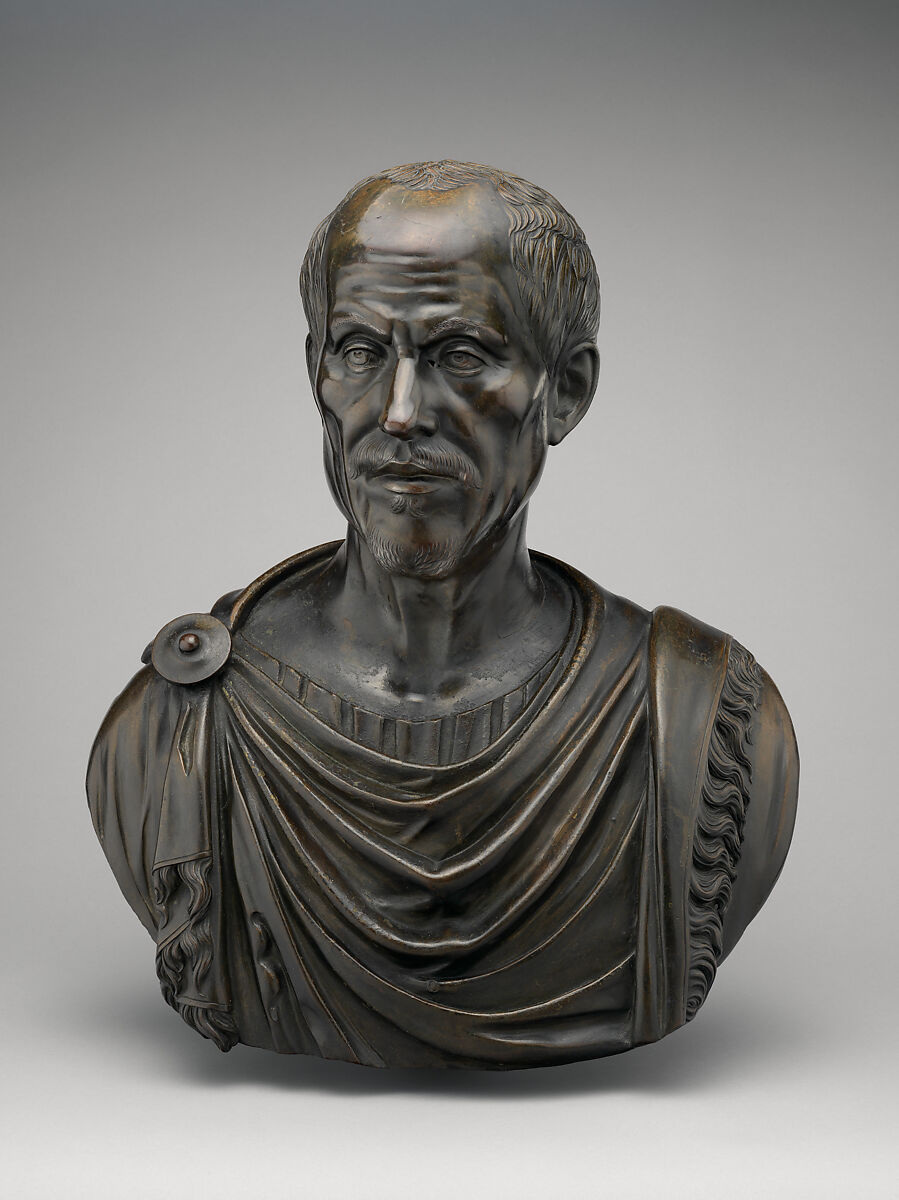 This artwork is meant to be viewed from right to left. Scroll left to view more.