Coif
Not on view
Patterns of scrolling vines, or rinceaux, with flowers, birds, and insects - like the design on this coif, or cap – were extremely popular in England in the late sixteenth and early seventeenth centuries. By the 1580s portraits of Queen Elizabeth I and several of her courtiers show the sitters wearing embroidered sleeves decorated with an early version of this pattern in monochrome thread (usually black) on white linen.[1] Examples like this coif, made of linen embroidered with polychrome silk and metal threads, were first produced about 1600. This popular scrolling pattern appeared on both men's and women's headgear, women's jackets, and furnishing textiles. The design, which may derive from similar motifs found in Islamic Spain, remained fashionable in England at least until the 1620s.[2]

Features like the small diaper patterns used to fill the interiors of individual leaves and flower petals in blackwork embroidery and the striped or shaded leaves and petals like those seen here continued to be employed in English crewel embroidery of the later seventeenth century. These features are also found in some of the earlier surviving Indian chintz patterns produced for export to Europe. English embroidery patterns and Continental verdure tapestries were sources that contributed to the creation of the lush floral designs seen in late seventeenth- and early eighteenth-century Indian chintz.[3] A miniature version of a scrolling floral pattern appears in one of the earliest surviving Indian chintzes, found on the walls of the circa 1677 dollhouse of Petronella Dunois (1650–1695), now in the Rijksmuseum, Amsterdam (no. BK-14656)[4] A sarasa for the Japanese market (see MMA 2010.55), another type of Indian cotton, also displays this type of pattern, and a much larger-scale variation that includes exotic animals appears on an Indian embroidered bedcover (see MMA 68.61).

A number of ornament prints, such as the German artist Bernhard Zan's design of 1581 (see MMA 20.8.1), could have served as models for European embroideries. Like the rinceaux design itself, ornament prints often had extended periods of use and were circulated and copied long after their original invention. While there is to date no concrete evidence that designs or textiles of this exact type were sent to Indian craftsmen to copy, the practice of sending patterns to India is well documented, and it seems likely that versions of such successful patterns as the European rinceaux with flowers influenced Indian textile production for the international market.

[Melinda Watt, adapted from Interwoven Globe, The Worldwide Textile Trade, 1500-1800/ edited by Amelia Peck; New York: Metropolitan Museum of Art; New Haven: distributed by Yale University Press, 2013]

Footnotes:

1. See Arnold, Queen Elizabeth's Wardrobe Unlock'd, pl. 3, figs. 13, 14, 25, 37 –39, 43–46, 66–68.

2. For a discussion of the origins of this style, see North, "'An Instrument of profit, pleasure, and of ornament,'" pp. 43–48.

3. Irwin, "Origins of the 'Oriental Style' in English Decorative Art," pp. 106–14.

4. See Hartkamp-Jonxis, Sitsen uit India/Indian Chintzes, pp. 10–13.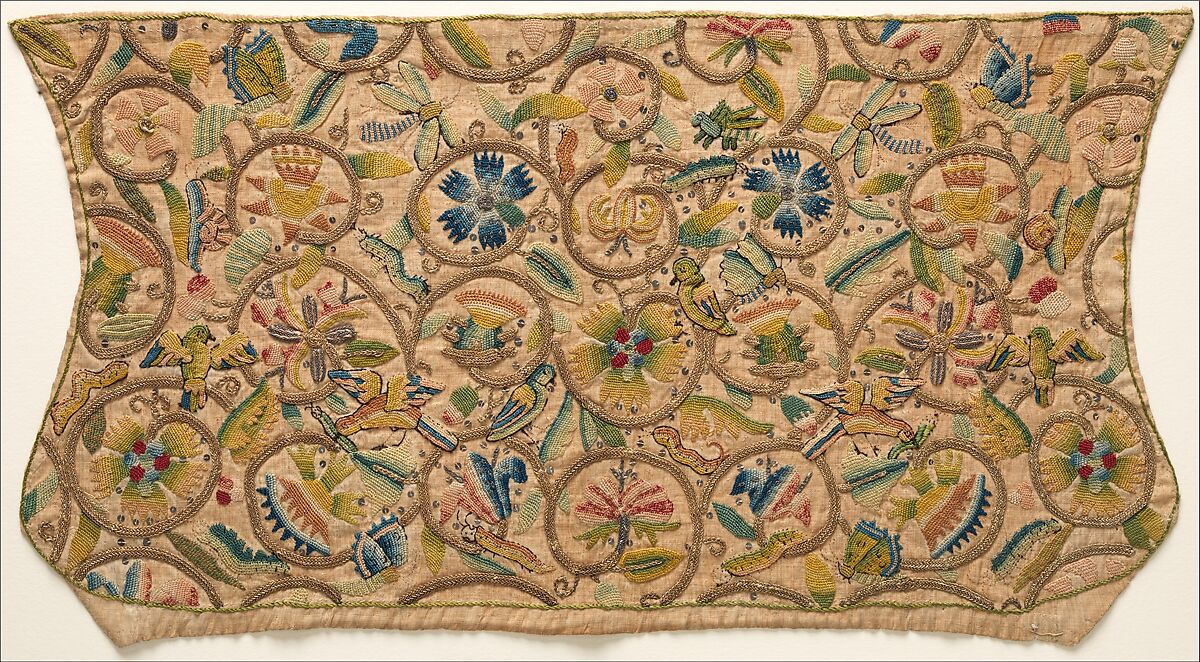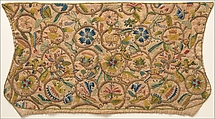 This artwork is meant to be viewed from right to left. Scroll left to view more.