Cihuateotl
Not on view
This stone sculpture depicts a seated female figure wearing a plain skirt and a simple knotted belt. Her skull-like face, with its large, circular eyes, open mouth, and exposed teeth, is framed by a mass of unkempt hair carved in swirls and twists. Leaning forward on clawed feet, her fearsome talons are raised to the sides of her chest as if prepared to seize some unseen prey.

Among the Aztecs, a woman in labor was said to "capture" the spirit of her newborn child much like a warrior captures his opponent in battle. But if a woman died while giving birth, her own soul was transformed into a terrifying demon known as a Cihuateotl, or "Divine Woman." The Cihuateteo (pl.) resided in a region in the west known as Cihuatlampa ("place of women") and accompanied the sun daily from its zenith at midday to dusk on the western horizon. As such, these malevolent spirits were regarded as the female counterparts of warriors who had perished on the battlefield and who were thought to escort the sun through the underworld to its rise each morning.

The Cihuateteo descended to the earth on five specific days in the Aztec calendar: 1 Deer, 1 Rain, 1 Monkey, 1 House, and 1 Eagle. During these times, they were known to haunt crossroads—places associated with evil and disease—in hopes of snatching the young children they were never privileged to have. The figure seen here has been inscribed on top of her head with the name "Ce Calli" (1 House), thus indicating her prescribed day of descent. Four nearly identical goddesses are housed in the collection of the Museo Nacional de Antropología in Mexico City—each being differentiated only by the date glyph engraved on its head—and, along with the one seen here, may have originally formed a set. Evidence suggests these five sculptures would have been placed in a shrine dedicated to the Cihuateteo, perhaps in the main temple precinct of the Aztec capital of Tenochtitlan.

Elsewhere in Postclassic art (ca. 1100–1521), the postpartum female body is depicted with pendulous breasts and a creased, flaccid stomach. Here, however, the figure's taut belly and exposed, youthful breasts serve to underscore her unrealized potential as a mother, as she died before having the opportunity to bear and nurse her newborn child.

Examples of female supernatural figures with similar overtones of death (and eventual resurrection) are found in a number of Mesoamerican traditions, from Classic Veracruz statuary (ca. 7th–10th century) to Aztec and Mixtec codices (ca. 13th–16th century). Such a broad distribution indicates that the Cihuateteo were important, long-lasting features of indigenous religious practices.

William T. Gassaway, 2014–15 Sylvan C. Coleman and Pamela Coleman Fellow

-----

Resources and Additional Reading

Aguilar-Moreno, Manuel. Handbook to Life in the Aztec World. Oxford: Oxford University Press, 2007.

Boone, Elizabeth H. Cycles of Time and Meaning in the Mexican Books of Fate. Austin: University of Texas Press, 2007.

Diel, Lori Boornazian. "Clothing Women: The Female Body in Pre- and Post-Contact Aztec Art." In Woman and Art in Early Modern Latin America, edited by Kellen Kee McIntyre and Richard E. Phillips, 221–45. Leiden; Boston: Brill, 2007.

Johansson K., Patrick. "Mocihuaquetzqueh: ¿Mujeres Divinas O Mujeres Siniestras? (Mocihuaquetzqueh: Divine Women or Sinister Women?)." Estudios de Cultura Náhuatl 37 (2009): 193–230.

Key, Anne. "Death and the Divine: The Cihuateteo, Goddesses in the Mesoamerican Cosmovision." PhD diss., California Institute of Integral Studies, 2005.

Klein, Cecelia. "The Devil and the Skirt: An Iconographic Inquiry into the Pre-Hispanic Nature of the Tzitzimime." Ancient Mesoamerica 11 (2000): 1–26.

Miller, Mary E., and Karl Taube. The Gods and Symbols of Ancient Mexico and the Maya: An Illustrated Dictionary of Mesoamerican Religion. London: Thames & Hudson Ltd, 1993.

Nicholson, Henry B., and Eloise Quiñones-Keber. The Art of Aztec Mexico: Treasures of Tenochtitlan. Catalogue of an Exhibition at the National Gallery of Art, Washington, 1983. Washington, D.C.: National Gallery of Art, 1983.

Pasztory, Esther. Aztec Art. Norman: University of Oklahoma Press, 1983.

Sahagún, Fray Bernardino. Florentine Codex: General History of the Things of New Spain. 12 vols. Translated by Arthur J. O. Anderson and Charles E. Dibble. Santa Fe, NM: School of American Research and University of Utah Press, 1950–82.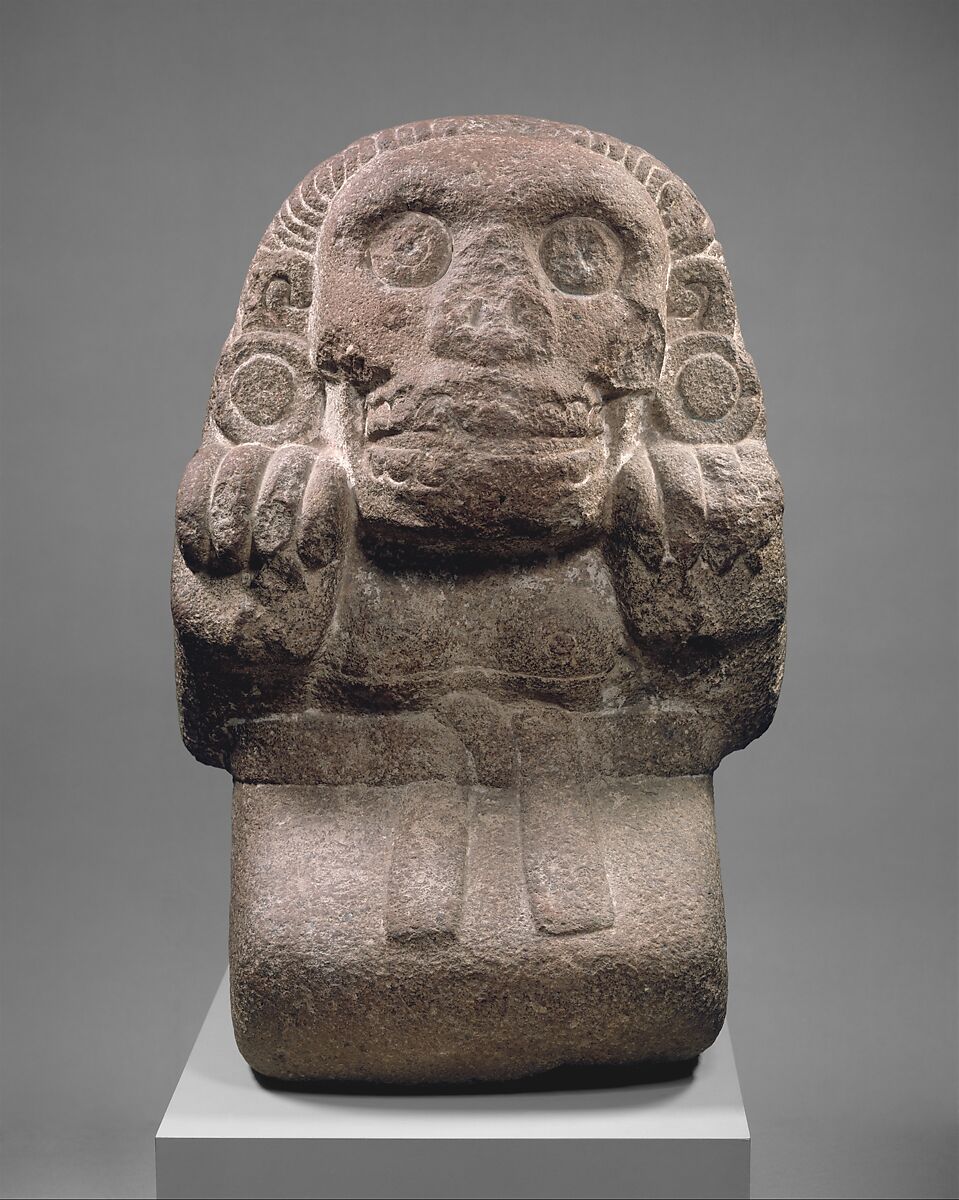 This artwork is meant to be viewed from right to left. Scroll left to view more.