Axe
Not on view
This magnificent axe was originally one of several chiefly accoutrements owned and displayed by a Songye ruler in what is today southeastern Democratic Republic of Congo. Its complex form and construction indicate that it was made by a master smith. The artisan worked with hot, malleable iron to create the axe head's overall form-its angular corners, curving blade, and twisting metal struts. Once it had cooled, he used a hammer and chisel to decorate the blade surface with incised lines and circles. The faces that appear on both sides of the axe head were produced using this technique. They may be miniature depictions of kifwebe masks, a type of face mask danced by members of the bwadi bwa kifwebe society. This association was charged with enforcing and expanding the political and supernatural strength of the ruling class, and was intimately linked to displays of chiefly power. The appearance of this emblematic mask form on royal prestige objects indicated the ruler's control over the association and, in turn, the association's support of his leadership.

The axe's massive handle matches the blade's solidity and scale. Its flared base and bulbous apex echo the blade's spreading curves, while the striking opulence of the copper sheeting counterbalances the visual complexity of the iron blade. A precious metal originating far to the south at the headwaters of the Zambezi River, copper was an expensive and rare material. Its extensive use in this piece not only beautifies it, but also indicates the ruler's participation in and mastery over long-distance commerce.

Axes were employed as symbols of royal power throughout present-day southeastern Democratic Republic of Congo and northern Angola. Elaborate versions of this functional tool were created as royal scepters that were potent symbols of civilization and cultural achievement. They represented the body of esoteric skills and knowledge associated with ironworking, an activity rich in practical as well as supernatural significance. Indigenous rulers often traced their ancestry back to culture heroes credited with the discovery of ironworking, and these metal implements reinforced those dynastic connections and suggested the leaders' control over potent processes of creation and transformation. The wooden handles of royal axes were often highly decorated, covered with exquisitely carved motifs or encased in precious metals or animal hides.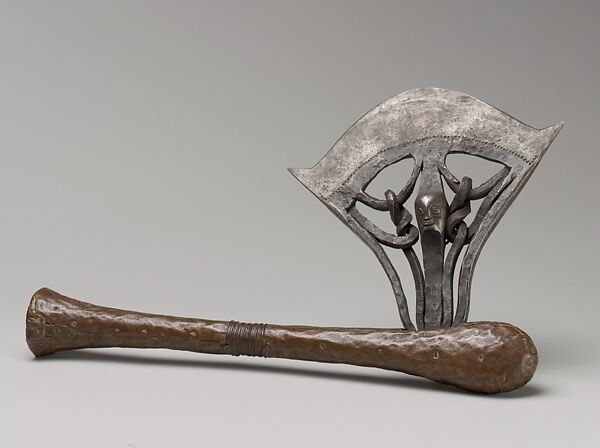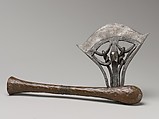 This artwork is meant to be viewed from right to left. Scroll left to view more.