Commemorative Figure (Lefem)
Not on view
In chiefdoms throughout the Cameroon grassfields, freestanding sculptural portraits of leaders known as lefem are carved as important documents of dynastic lines of leadership. Such royal ancestor figures are commonly made during the subject's reign or that of his successor. The dynamic stance and strong posture of the lefem shown here, in combination with its material accoutrements, emphasize his chiefly authority and identity. The cap, a snugly fitting bonnet crowned by two spike-covered globes, is a form of knitted fiber prestige hat worn by Bangwa rulers. The figure clutches a long tobacco pipe in its left hand, an item held while sitting in state, and a beaded calabash in his right hand. In ceremonial use, the beaded vessel would contain palm wine, an essential element of social and political meetings as well as a major component of sacrificial libations. Its representation as an attribute of the chief indicates his multifaceted role as an adept political player and spiritual leader of the community. The collar of leopard claws that dangles around the figure's neck is a reference to the royal alter ego, the leopard. The leopard remains one of the most sacred animals among grassfields chiefdoms and is associated with survival skills as well as mastery of the environment—important qualities for any king. The inclusion of the collar implies the many shared characteristics of these two royal personages—strength, speed, cunning, ferocity, and power. In fact, it is even believed that the king may assume the form of a leopard, and accordingly, that the leopard has the ability to take on human form.

Figures such as these have as their primary reference point the human world, not the supernatural world. Because of their important status, memorial figures are honored and well cared for while being housed in a secure place within the king's palace. This work was assembled with other portrait figures from previous generations, including representations of other chiefs, as well as queen mothers, princesses, titled brothers, and favorite wives. The assembly served as a concentrated symbol of dynastic power and continuity, a visual record of family history that inspired deference and obedience. During the ceremonies that surround a chief's funeral and the installation of his successor, his lefem is exhibited publicly, again as a means to maintain social and political continuity as well as to encourage faith in the strength of royal ancestral power.

In addition to their role in funerary and coronation ceremonies, Bangwa figures also appear in other contexts. Lefem were displayed at annual ceremonies honoring royal ancestors overseen by earth priests at natural sites of spiritual significance such as spectacular waterfalls, mountaintops, and enormous trees. The thick encrustation of this figure is a result of sacrificial libations that have been poured over the lefem during ceremonial practices.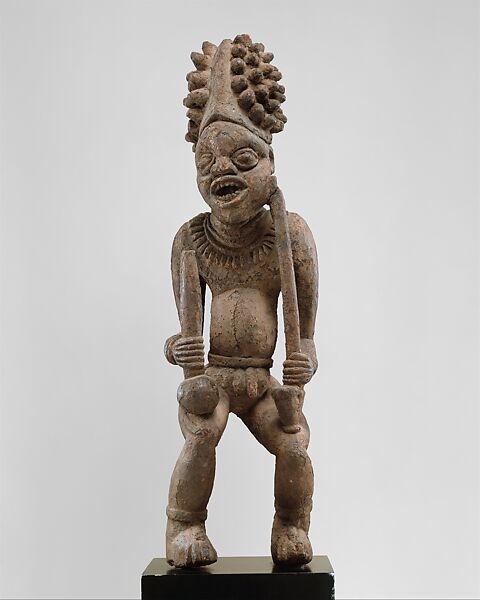 This artwork is meant to be viewed from right to left. Scroll left to view more.