Woman's valuable (Toluk)
Not on view
On the island of Belau, turtleshell "money," known as toluk, is exchanged between women to mark significant moments in their lives. Made from the shell of sea turtles, these shallow, oval-shaped bowls were originally used as serving vessels but eventually evolved into ceremonial objects that function as a traditional form of currency.

The process of making women's money begins with the capture of a sea turtle, whose individual shell plates are heated in freshwater and formed into bowls using a wooden mold. Once it has cooled, the bowl is removed from the mold and an artist polishes its surface and carves ornamental projections around its edges. The objective is to keep surface decoration to a minimum so as to highlight the natural patterns inherent in the turtleshell. As seen in this example, decoration is typically limited to abstract forms around the edges of the bowl, which may represent the wings of a frigate bird in flight.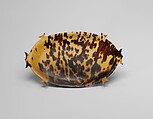 This artwork is meant to be viewed from right to left. Scroll left to view more.