Seated Figure
Not on view
With its stylized facial features and angular body, this figure embodies the spare, minimalist approach to the human form typical of the sculptural traditions of the Caroline Islands of Micronesia in the western Pacific. The domed head and smoothly curving brow lines contrast with the angularity of the thin lozenge-shaped mouth and markedly pointed chin, giving the face an almost masklike appearance. Of indeterminate gender, the body is rendered as a series of interlocking angular forms, with the hands, which are only subtly indicated, resting on the knees.
While a stone example recovered archaeologically attests to the antiquity of the tradition, there is little precise information on the iconography or function of Carolinian seated figures. Some sources indicate that they may have represented recently deceased ancestors and were kept in the home, where they could be called upon to intervene on behalf of their living descendants. They may also have been associated with a type of canoe magic, in which the figure was placed in a small canoe and set adrift to lure evil influences away from the village. Showing evidence of extensive use and handling, this example may possibly have been employed in a variety of contexts.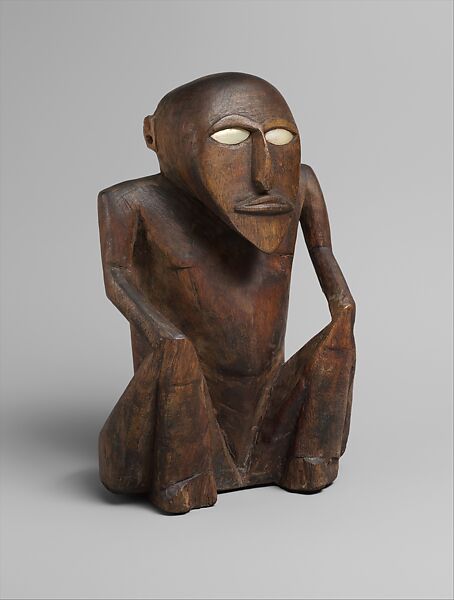 This artwork is meant to be viewed from right to left. Scroll left to view more.