Lime spatula (Tap)
Not on view
The Iatmul and other Middle Sepik peoples use betel nut, the fruit of the areca palm, which is chewed with lime made from burnt shells or coral and other substances to produce
a mild stimulant effect. Among the Iatmul, the ornate containers and spatulas used respectively to hold and serve the lime had ceremonial as well as practical functions. Ceremonial lime containers were presented to newly initiated boys by their maternal uncles to mark their newly achieved status. The tops of these containers have a hole for the insertion of the lime spatula, and the lower ends are
frequently adorned with carvings depicting totemic animals or other supernatural beings. This example is inverted to show the carving to better advantage. The lower ends of Iatmul lime spatulas were carved with a series of ridges. To express pride, assertiveness, or anger, Iatmul men rapidly thrust the spatula in and out of the lime container so that the ridges, rubbing against the edges of the hole in the top, produced a harsh grating noise.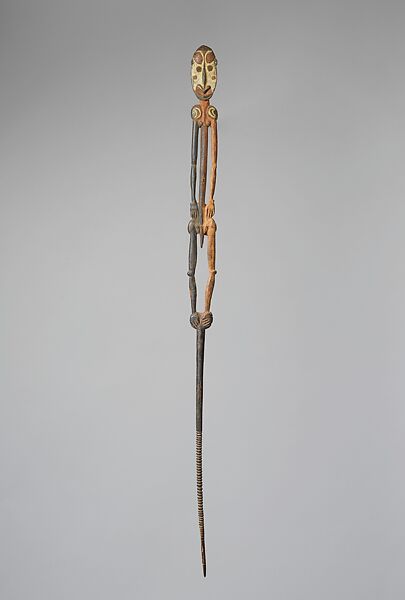 This artwork is meant to be viewed from right to left. Scroll left to view more.