Headdress (Sogoni Koun)
Not on view
Sogoni koun headdresses, although inspired by the Bamana mythical ancestor Ci Wara, represent the convergence of the ci wara headdress genre with important elements of another distinct regional performance tradition.
Pascal James Imperato has noted that sogoni koun originated among the Wassalunke peoples in the Wassalou, a region about the Sankarani River where the borders of modern Guinea and Mali meet. Its appeal led to its adoption by a number western Bamana and Malinke villages, and the genre eventually spread widely. Over time this dance, performed by members of village age-set associations, or ton, was transmitted even more broadly so that it came to be performed in urban communities, including Bamako, the Malian capital.
Although sogoni koun and ci wara coexisted in many Bamana communities, the former developed as a discrete form of expression, distinguished by its own choreography, costuming, musical accompaniment, and lyrics. There are, however, important similarities between the two: both utilize headdresses that portray humanized antelope protagonists, may be related to agricultural labor, and unfold against the setting of the fields. The commonalities between the two traditions, along with ci wara's greater prominent throughout Bamana society, have factored into sogoni koun invariably being overshadowed by ci wara in the art historical literature.
Sogoni Kun headdresses, like Ci wara, combine antelope features with those of other animals that are significant within Bamana culture, such as the earth-digging aardvark or the armored pangolin. The animals are observed in nature to excel in actions that are also critical to the success of the farming effort and, therefore, Bamana life. While ci wara is danced by adult initiates of the eponymous society, sogoni koun can be performed by the most talented dancers of a community's youth association. The basketry cap by which the headdresses was afixed to the head has been retained in this example. In performance, the dense costume conceals the bodies of the dancers who bend slightly forward and engage in a tilting motion. According to Imperato, prior to 1940 the youth association festivals in which sogoni koun appeared took place primarily in December, at the end of the harvesting season. The timing of the performances later shifted so that events were scheduled during the preplanting and harvesting months.

Sources:
Imperato, Pascal James. 1981. "Sogoni Koun." African Arts 14, no. 2, pp. 38-47, 72, 88
LaGamma, Alisa. 2002. Genesis: ideas of Origin in African Sculpture. New York, New Haven and London: The Metropolitan Museum of Art and Yale University Press.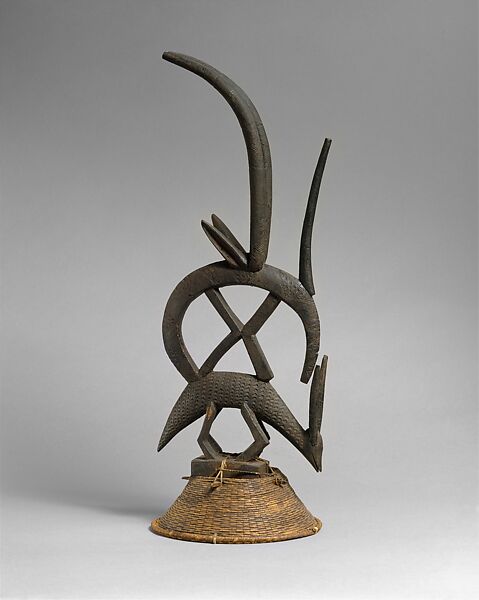 This artwork is meant to be viewed from right to left. Scroll left to view more.