Headdress: Male Antelope (N'Gonzon Koun)
Not on view
Chi Wara, a religious association of initiated Bamana men, is named for the mythical beast, half antelope and half man, that invented agriculture and taught it to humanity. The society offers sacrifices to obtain spiritual support for the harvest and passes on information essential to farmers. Chi Wara performances encourage the farmers as they work in the fields and praise their efforts after they have returned to the village when the work is complete. In both contexts, a pair of headdresses-one male and one female-is worn by two strong young male dancers. The female is often shown carrying her young on her back. The dancers are accompanied by women who sing the praises of those who work hard as Chi Wara, the mythical farming beast.
Related antelope headdresses, called Songoni Kun, or "little antelope head," are worn by members of secular youth associations which also gather for communal labor followed by performances of dance, song, and music. Antelope headdresses vary in form, reflecting their identity as well as their region or origin. They often emphasize the antelope's long horns and elegant, tapered head, and may be decorated with pierced openwork designs or finely incised geometric patterns. Sometimes they combine antelope features with those of other animals-such as the earth-digging aardvark-that embody qualities essential to the success of the farming effort.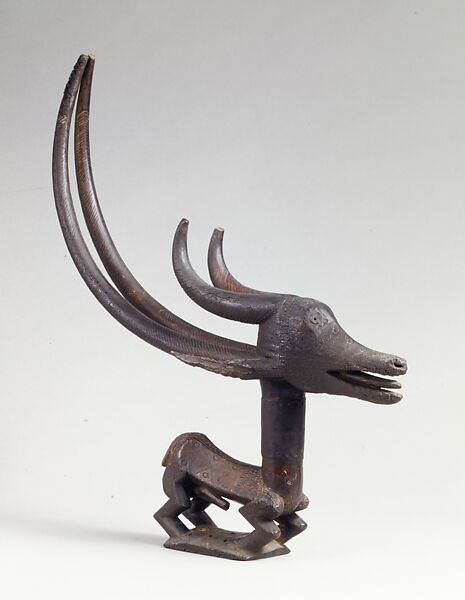 This artwork is meant to be viewed from right to left. Scroll left to view more.