Headdress
Not on view
Headdresses covered in leather, like this elegant depiction of a beautiful young woman with an elaborate coiffure and a white face, are created in the region along the Cross River in Nigeria and Cameroon. This particular example was made by the Ejagham peoples and is characteristic of a genre popular across the region. Some are startlingly naturalistic and may be portraits of known individuals; others are highly stylized. There are three overall types: helmet masks that cover the wearer's head entirely, masks that cover only the face, and headdresses that, like this one, are attached to basketry caps worn on top of the head.

These exceptional works were owned by societies formed to provide their members entertainment and mutual assistance. Headdresses were named after and allied with the association for which they were commissioned. Members of associations are men or women of the same generation, and membership is often further restricted to those who have performed certain feats or are proficient in particular skills. In the past, for example, there were associations of hunters who had killed leopards or other dangerous animals. These societies might be further stratified into successive levels for which advancement was contingent on the paying of a certain fee.

Headdresses were worn for both festive and important ceremonial occasions. Deaths of high-ranking society members would be marked by elaborate commemorative funerals at which the headdresses would be worn by an accomplished dancer dressed in a full length gown, adorned with the society's important paraphernalia, and accompanied by specific musical instruments.

To make a headdress, the artist carves the form from a single piece of wood and covers it with soft untanned antelope skin that has been soaked in water for several days. He stretches, binds, and pegs the skin into place until it dries and stiffens. Eyes, scarifications, and hair are often carved separately and pegged into the finished piece. Before it is worn, the headdress is painted or colored, then adorned with porcupine quills, feathers, or feathered rods stuck into holes at the top.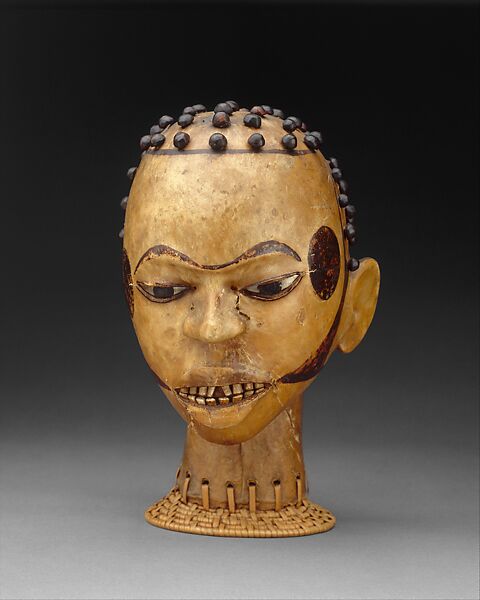 This artwork is meant to be viewed from right to left. Scroll left to view more.