Whistle: Seated and Reclining Figures (Nsiba)
Not on view
The kingdom of Kongo was at the height of its power in 1482, when Portuguese sailors first visited the coast of central Africa. The kingdom, founded between 1350 and 1400, was a model of centralized government, with a divine king and a network of advisers, provincial governors, and village chiefs who ruled as many as three million people. Portuguese navigators brought with them Catholic missionaries who converted the kings of Kongo leading to the creation of the first Christian kingdom south of the Jahra until its collapse in the mid-eighteenth century.

A nude male figure wearing an embroidered chief's cap sits in a relaxed pose, his legs turned to one side, his arm raised to his head. Curled around behind him lies a diminutive figure whose head is cushioned on one raised arm while the other rests on his thigh. Both figures wear anklets and bracelets. The identity of the two males depicted and the meaning of their pose is unclear. Whistles are sometimes ornamented with family groups and this one might represent a high-ranking father and son. The figure group, carved on a platform atop a decorated shaft, is mounted on a small antelope horn that serves as a whistle. Such whistles were used only by initiated men and important people because they were thought to have supernatural or magical powers. Hunters used them both to signal to one another in the forest during group hunts and to bewitch game so that it would come toward them. Diviner-healers used them for rain-making ceremonies and for curing the sick. A nineteenth-century eyewitness report describes a healer who, with the magical assistance of his whistle, was able to extract bullets from a man who had been shot by sucking forcefully on the wound.
This piece is exceptional for the spiral composition of the group and for the intricate way in which the two figures are intertwined. It is also unusual to find a work of traditional African art that handles figures so completely in the round. Where much African art is frontal and symmetrical, there is no single view from which this complex sculpture can be fully understood.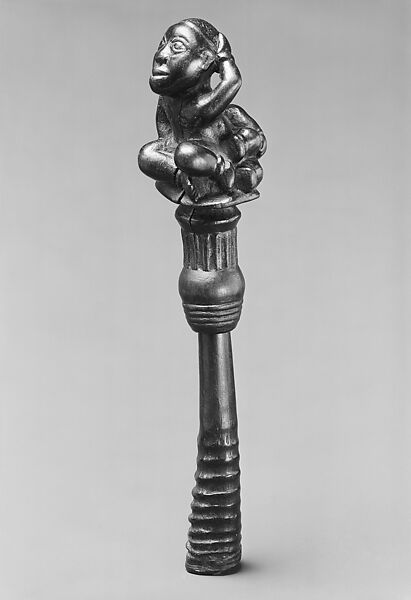 This artwork is meant to be viewed from right to left. Scroll left to view more.