Figure: Seated Male With Sword
Not on view
This impressive image of a ruler was created by an Akan sculptor in what is today Ghana. The attention devoted to describing the chiefly regalia reflects the great emphasis placed on the courtly arts in this area. The Akan peoples were organized into several states of varying size and influence that were situated in a region rich in gold and ideally located for both overland and maritime trade. The Asante kingdom was the most important of these and at the height of its power controlled an area roughly corresponding to that of modern Ghana.

An Akan ruler's appearance was thought to reflect the stability and well-being of his kingdom. Here, the figure's striated neck, softly bulging physique, and vigorous gesture suggest good health, while an abundance of accoutrements indicates the wealth and power of his court. These include a headband holding square ornaments, most likely of gilded wood, and a necklace, probably of cast gold. He is seated on a distinctive, five-legged stool whose arrangement symbolically evokes the organization of the kingdom: a central column, the king, is surrounded by four legs representing chiefs. In his hand he holds an afena, a curved sword with a spherical, gold-covered hilt and pommel carried by high-ranking officials of the court. The cloth wrapper that covers the ruler from the chest to his ankles likely represents kente, a brightly patterned cloth woven from imported silk. Finally, sandals cover the soles of the ruler's feet. According to Akan political practice, once a ruler was enthroned he could never touch the ground with his bare feet; to do so was said to pollute the earth and lead to famine and sickness within the kingdom.

Wooden representations of male chiefs are relatively uncommon in Akan art, and it is not entirely certain for what context this work was created. The white clay, or kaolin, that coats the sculpture may associate it with spiritual practices during which the skin is whitened to indicate reverence and devotion. Similarly, carved figures of spiritual practitioners are frequently painted white to demonstrate their close links to the supernatural.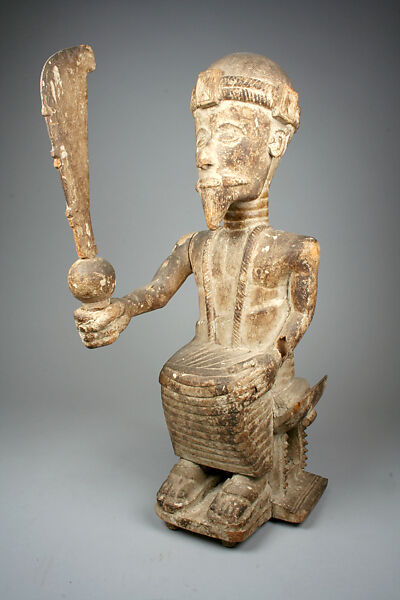 This artwork is meant to be viewed from right to left. Scroll left to view more.