Wrapper
Not on view
Brilliantly colored and elaborately woven textiles known as kente are worn by individuals of distinction throughout the Asante kingdom. Monumental kente wrappers are composed of strips that are separately woven and sewn together. The intricate designs characteristic of these textiles are individually named and may be reserved for the exclusive use of the king or other high-ranking officials. To create them, weavers use a unique loom with two heddles that allows them to juxtapose warp-face patterns (the vertical stripes) and weft-face patterns (the horizontal, geometric designs) along the same strip. This technique requires significant preparation and skill; indeed, Asante legend traces the origins of kente to the spider Ananse, a trickster figure known for his exceptional wisdom and cleverness.

While the first kente cloths were created with blue and white cotton threads, later textiles employed imported silk dyed in vivid colors. The expense of the materials and labor required for kente manufacture made it highly prestigious and the Asante kings exerted tight control over its creation and use. A royal weaving center was established in the seventeenth century on the outskirts of the capital at Kumasi, where the creations of weavers could be inspected and claimed by royal patrons. Presently, kente is often made of more affordable materials and is therefore worn by a broader segment of the population. It nevertheless retains connotations of prestige and formality.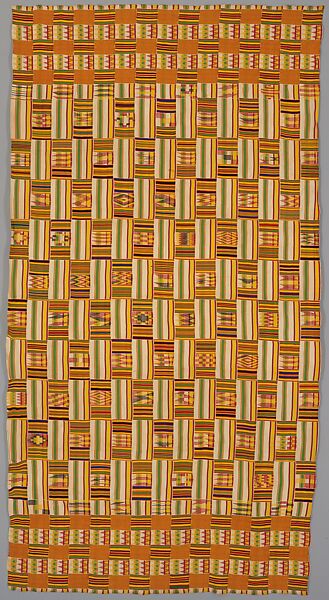 This artwork is meant to be viewed from right to left. Scroll left to view more.