Mask: Female (Pwo)
Not on view
This work is an outstanding example of Pwo, a classic Chokwe mask genre that honors founding female ancestors. Such representations are especially significant given that the Chokwe trace descent through their mothers' lines. Pwo's joint performance with her male counterpart, Cihongo, brings fertility and prosperity to a community. The cultural ideals of these two iconic representations developed during the precolonial period continue to inspire contemporary artists in the region.

Inscribed motifs on the mask's forehead and cheeks are classic graphic designs that aesthetically enhanced a woman's beauty in past generations and were signs of ethnic identity. The central cruciform on the forehead has been interpreted as a cosmogram while the markings on either cheek are described as a solar disc joined by tears. Chokwe masks are often performed at the celebrations that mark the completion of initiation into adulthood. That occasion also marks the dissolution of the bonds of intimacy between mothers and their sons. The pride and sorrow that event represents for Chokwe women is alluded to by the tear motif.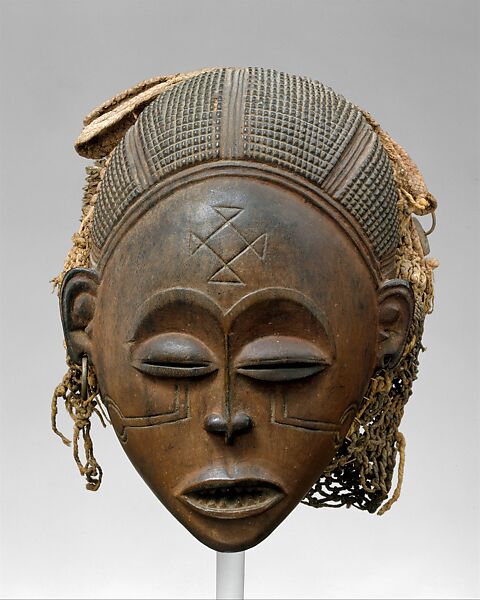 This artwork is meant to be viewed from right to left. Scroll left to view more.