Votive cone with cuneiform inscription of Lipit-Eshtar
Not on view
Votive cones are one type of royal foundation deposit, objects that were buried in the walls and beneath the floors of important buildings during construction to sanctify the site and to create a historical memory of the ruler and his achievements. Hidden from view, these inscribed objects were meant to be found during later restorations. The shape of the votive cones are reminiscent of earlier foundation pegs (imagined to pin down the ground plan of a building), but provide additional space for an inscription with their cylinder-like thickness.

This clay cone was inscribed with a dedication of Lipit-Eshtar, who ruled the city of Isin in southern Mesopotamia ca. 1934-1924 B.C. The cuneiform inscription is written in Sumerian, which by Lipit-Eshtar's day was a historic language – no longer spoken – that was mostly used for scholarly and religious texts. This cone was probably created for the construction of a temple (the E-ninisa, "House of Justice") at Namgarum, which, according to the inscription, was built after the king "established justice in Sumer and Akkad". Justice was a primary concern for kings in the Isin-Larsa and Old Babylonian Period, as known from the famous example of the Stele of Hammurabi, a monument depicting the ruler as the king of justice. This inscription, predating Hammurabi's monument by a century and a half, shows the early emphasis placed on providing justice for the governed people. Elsewhere on this cone, Lipit-Eshtar refers to himself as a shepherd, plowman, and caretaker, metaphors of kingship that also convey the responsibility of kings to care for their subjects.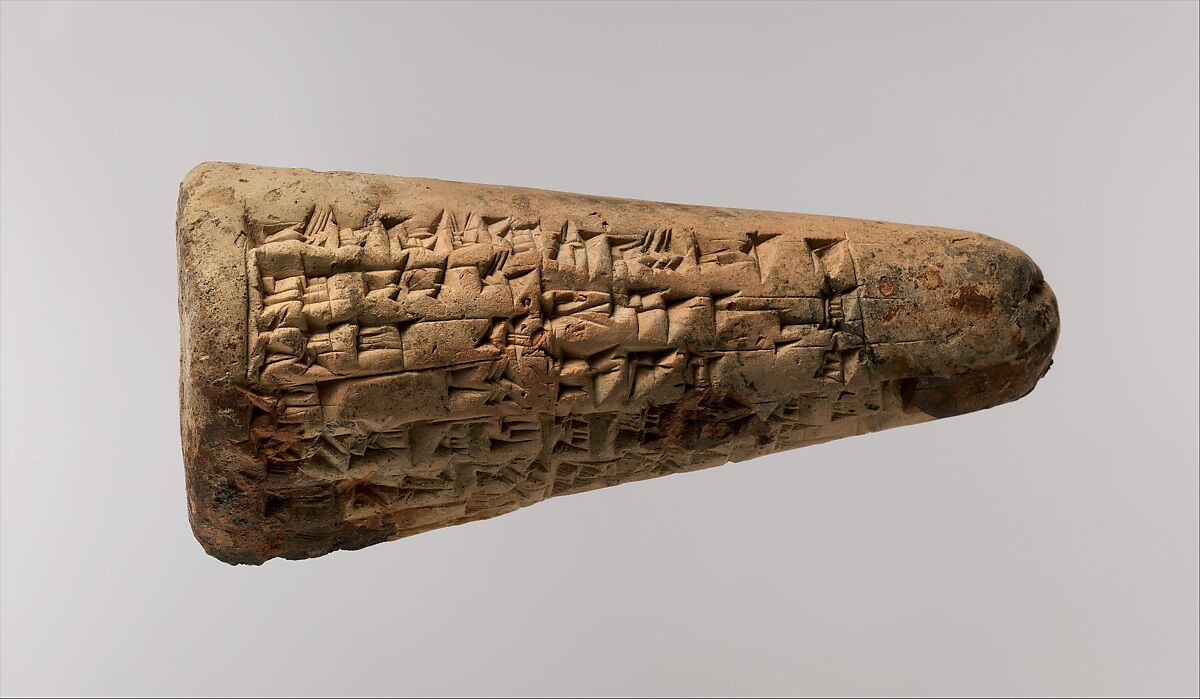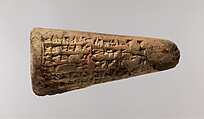 This artwork is meant to be viewed from right to left. Scroll left to view more.