Statue of Gudea, named "Gudea, the man who built the temple, may his life be long"
Not on view
The Akkadian Empire collapsed after two centuries of rule, and during the succeeding fifty years, local kings ruled independent city-states in southern Mesopotamia. The city-state of Lagash produced a remarkable number of statues of its kings as well as Sumerian literary hymns and prayers under the rule of Gudea (ca. 2150–2125 B.C.) and his son Ur-Ningirsu (ca. 2125–2100 B.C.). Unlike the art of the Akkadian period, which was characterized by dynamic naturalism, the works produced by this Neo-Sumerian culture are pervaded by a sense of pious reserve and serenity.

This sculpture belongs to a series of diorite statues commissioned by Gudea, who devoted his energies to rebuilding the great temples of Lagash and installing statues of himself in them. Many inscribed with his name and divine dedications survive. Here, Gudea is depicted in the seated pose of a ruler before his subjects, his hands folded in a traditional gesture of greeting and prayer.

The Sumerian inscription on his robe reads as follows:

When Ningirsu, the mighty warrior of Enlil, had established a courtyard in the city for Ningišzida, son of Ninazu, the beloved one among the gods; when he had established for him irrigated plots(?) on the agricultural land; (and) when Gudea, ruler of Lagaš, the straightforward one, beloved by his (personal) god, had built the Eninnu, the White Thunderbird, and the..., his 'heptagon,' for Ningirsu, his lord, (then) for Nanše, the powerful lady, his lady, did he build the Sirara House, her mountain rising out of the waters. He (also) built the individual houses of (other) great gods of Lagaš. For Ningišzida, his (personal) god, he built his House of Girsu. Someone (in the future) whom Ningirsu, his god - as my god (addressed me) has (directly) addressed within the crowd, let him not, thereafter, be envious(?) with regard to the house of my (personal) god. Let him invoke its (the house's) name; let such a person be my friend, and let him (also) invoke my (own) name. (Gudea) fashioned a statue of himself. "Let the life of Gudea, who built the house, be long." - (this is how) he named (the statue) for his sake, and he brought it to him into (his) house.

This translation is derived from Edzard, Dietz-Otto. 1997. Gudea and his Dynasty. The Royal Inscriptions of Mesopotamia, Early Periods Volume 3/1. Toronto: University of Toronto Press, pp. 57-58.
#7066. Overview: Who were the Sumerians and Akkadians?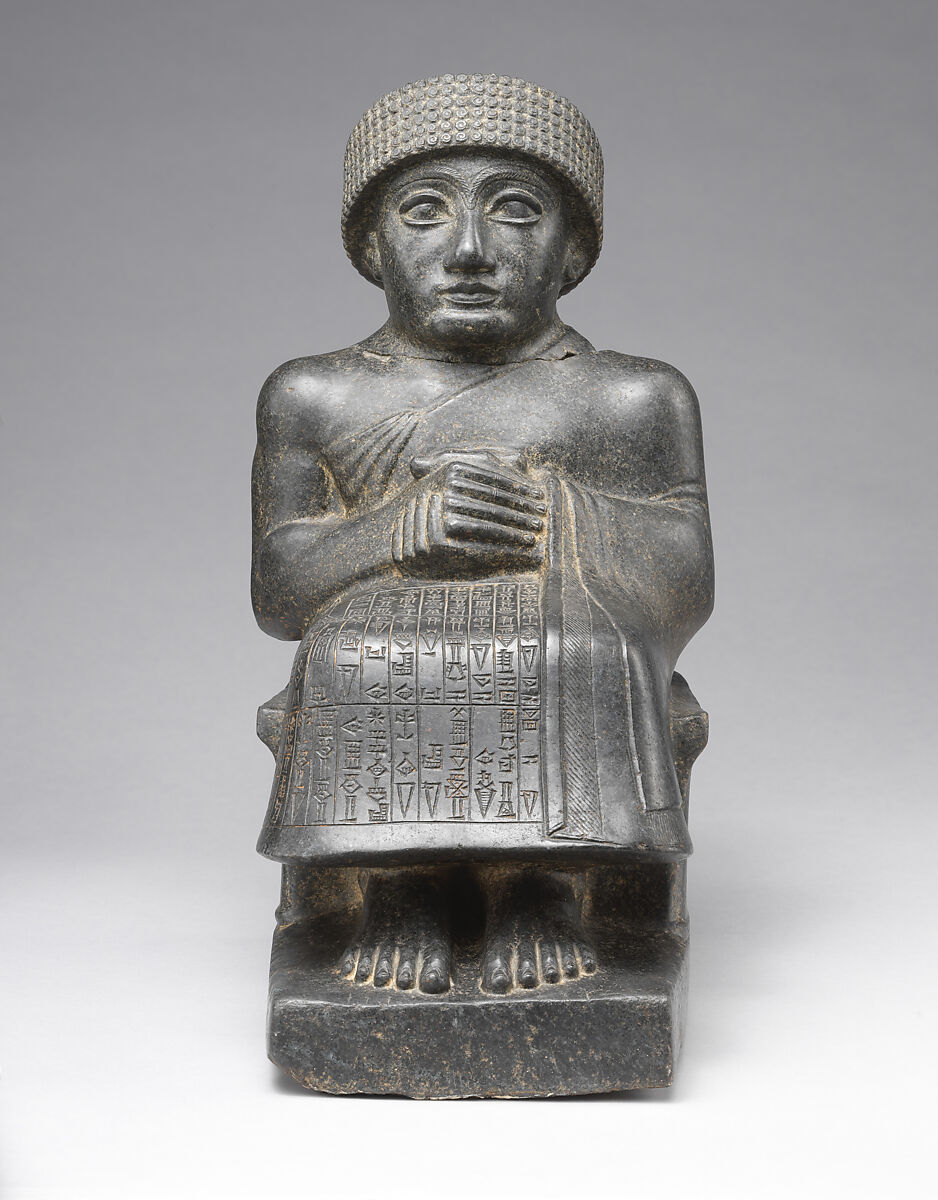 This artwork is meant to be viewed from right to left. Scroll left to view more.