Grooms and Foreign Horses
After Jin Nong Chinese

Not on view
Jin Nong, a noted scholar, connoisseur, and calligrapher, took up painting around the age of fifty after his failure, in 1736, to be recruited as an official. Jin's paintings of horses, dated examples of which all come from 1760–61, are a poignant expression of his frustrated political ambitions, as he makes clear in his accompanying poems, which draw upon the well-established metaphor that an aptitude for recognizing fine horses was akin to an ability to judge and select men for government service.

In this powerfully eccentric painting, Jin's intentionally awkward and self-consciously archaic revival of a composition and theme associated with Zhao Mengfu (1254–1322), a Chinese scholar whose service under the Mongols led to a number of positive reforms, makes clear Jin's aspiration to perform a similar function under the Manchu Qing dynasty. Inscribed with a poem that bemoans the absence of a worthy judge of horses, the painting is a thinly veiled lament that expresses the artist's feelings of being misunderstood and unappreciated:

I happened to see a painting of foreign horses by a man of the Yuan dynasty. I made a copy of it while a guest and inscribed a poem:

Bathed three times in the Dragon Pool, yearly they galloped out,
With futile ambition they rushed to respond to their lord's will.
Now led to the red gates of the wealthy, where a high price is asked,
What man, with a single look, could make them worth a thousand tales?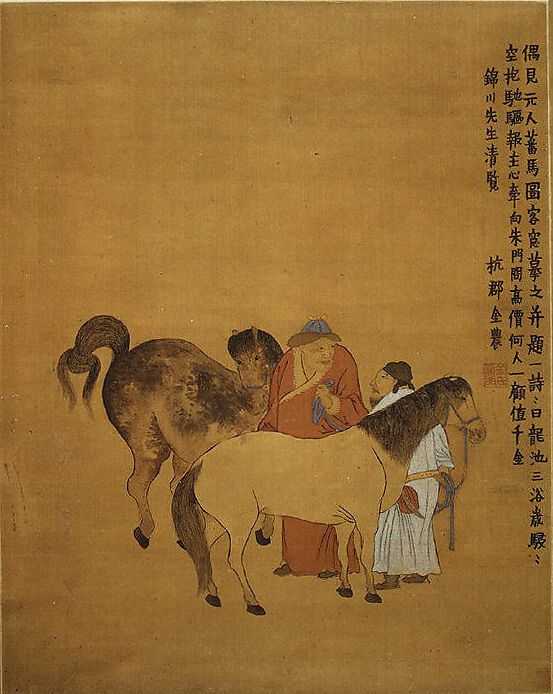 This artwork is meant to be viewed from right to left. Scroll left to view more.