Pair of Flower Style Doors
On view at The Met Fifth Avenue in Gallery 463
The flower style associated with the height of Mughal aesthetics and refinement finds expression in this pair of carved wood doors. The depiction of complete flowering plants, carved in low relief and placed in a symmetrical arrangement, is the hallmark of this style, which had its genesis in the reign of the Mughal emperor Jahangir (1605–27). In accordance with their patrons' interests, artists of this period studied European herbals, borrowing the techniques of combining front and side views and infusing the petals and leaves of the plants with a sense of movement. During the reign of Jahangir's son Shah Jahan (1627–58), and especially from the 1630s on, the plant studies were transformed into decorative motifs, arranged in rows to cover textiles, objects, and architectural spaces. As they were incorporated into stylized, symmetrically balanced compositions like those on the carved dadoes and inlaid panels at the Taj Mahal, the plants lost their botanical specificity.
The use of wood was limited in Mughal architecture, and little of it remains. These doors are thus rare survivals of a tradition known through only a few other examples, including a pair of similar doors in the David Collection, Copenhagen.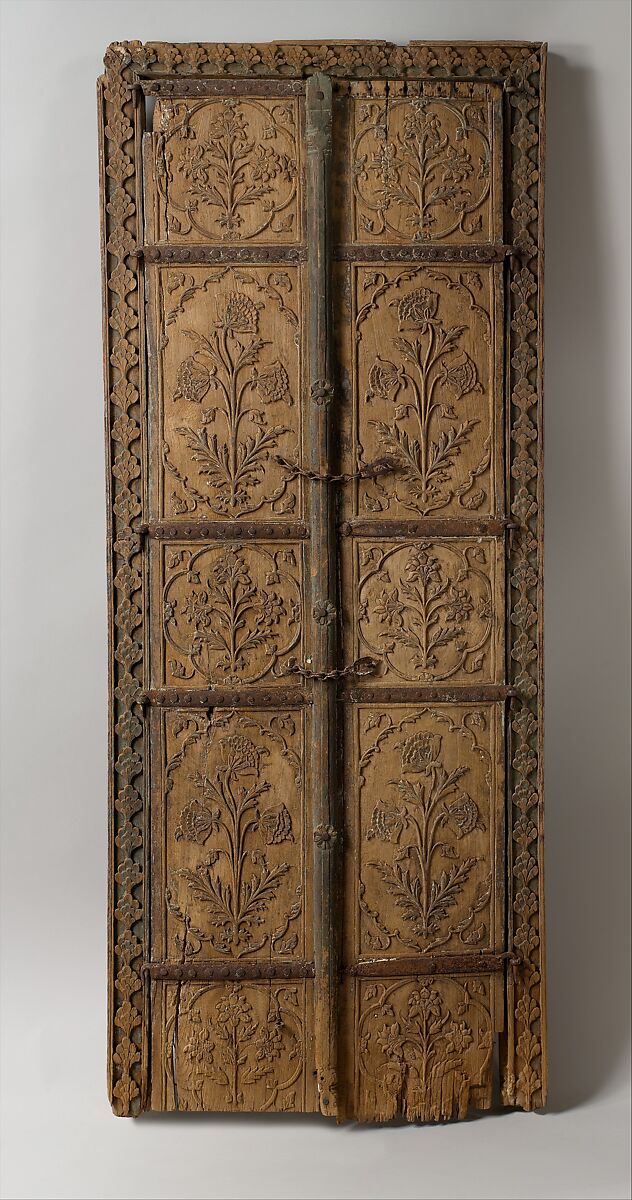 This artwork is meant to be viewed from right to left. Scroll left to view more.