Saint Anthony the Abbot in the Wilderness
Osservanza Master Italian

On view at The Met Fifth Avenue in Gallery 956
This panel is part of a cycle of scenes depicting the life of the hermit Saint Anthony Abbot. The painter's penchant for original and descriptive narrative detail appears in the treatment of the desert landscape and its fauna (symbols of the saint's temptations) beneath the luminous sky at dusk. A pot of gold in the lower left corner (which has been scraped away) symbolized the seductive worldly goods that the stalwart saint resists. The series of eight panels were likely arranged vertically, surrounding a central painted or sculpted image of Saint Anthony. The complex was probably commissioned for a member of the Sienese Martinozzi family (whose arms appear on one of the panels) for an Augustinian foundation, either in Siena or perhaps in the Marches region, where several branches of this family were located.
This panel is the sixth in a series of eight that includes Saint Anthony at Mass (Gemäldegalerie, SMPK, Berlin); Saint Anthony Distributing His Wealth and Saint Anthony Blessed by an Old Hermit (both National Gallery of Art, Washington, D.C.); Saint Anthony Tempted by the Devil in the Guise of a Woman and Saint Anthony Beaten by Devils (both Yale University Art Gallery, New Haven); and Journey and Meeting of Saint Anthony with Saint Paul the Hermit and Funeral of Saint Anthony (both National Gallery of Art, Washington, D.C.).
The enigmatic Osservanza Master has variously been identified as Sassetta and also as the young Sano di Pietro, based on close stylistic affinities with these other Sienese artists. It is also possible that the paintings attributed to the Osservanza Master, including the altarpiece from which this panel originated, are the product of a collaborative workshop to which these artists belonged.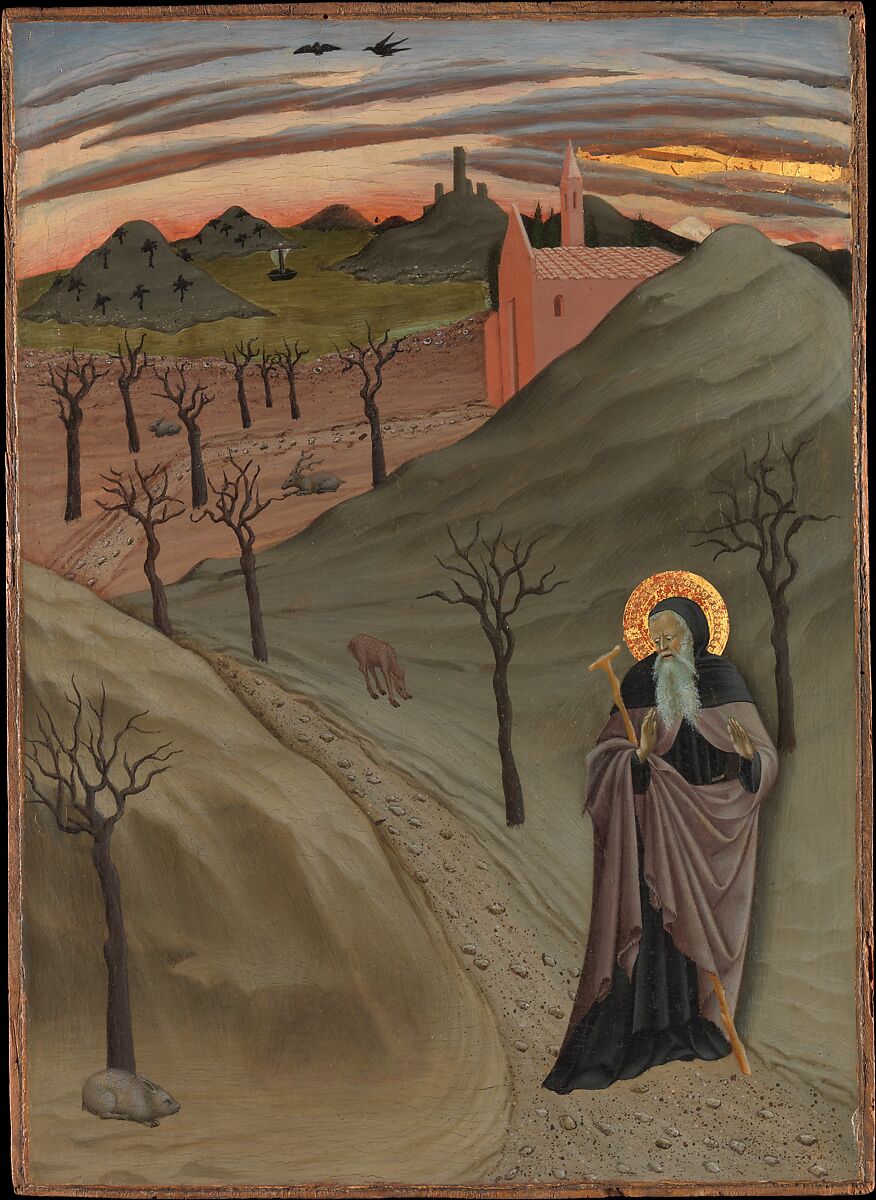 This artwork is meant to be viewed from right to left. Scroll left to view more.