Dish: The Destruction of the Hosts of Pharaoh
Master IC (probably Jean Court) French, Limoges
Jean Cour (or Court) French, Limoges

On view at The Met Fifth Avenue in Gallery 958
This large oval plate, representing the Destruction of the Hosts of Pharaoh as described in Exodus 13-15, is a superb example of French Renaissance painted enamel. The term "enamel" denotes the technique of enriching metal with the application of glass-like material, not unlike a glaze on ceramics. From antiquity to the fourteenth century, enamel production relied on the application of narrow strips of metal to the surface in order to isolate colors. Painted enamel, perfected in Limoges after decades of experimentation, was a far more complex approach. The resulting image depended on the successful manipulation of the enamel colors with the supporting metal.

Jean de Court, sometimes called the Master I.C., was highly esteemed not only for the fine craftsmanship of his enamels, but as a painter to royalty. He succeeded François Clouet as Court painter to Charles IX (reigned 1556-74). De Court uses a vibrant palette of blue, green, and russet hues to detail the narrative of Moses and the Israelites at left, escaping Pharaoh and his advancing army. The twisted double column of coiling purple which divides the image alludes to the biblical citation, "a pillar of fire and cloud standing between Israel and the Egyptians." As the narrative tells, the Lord dried the Sea to bring the Israelites to safe ground, whereupon Moses "stretched forth his hand over the sea, and the sea returned to its wonted flow…and the Egyptians fled into it, and the Lord routed the Egyptians in the midst of the sea."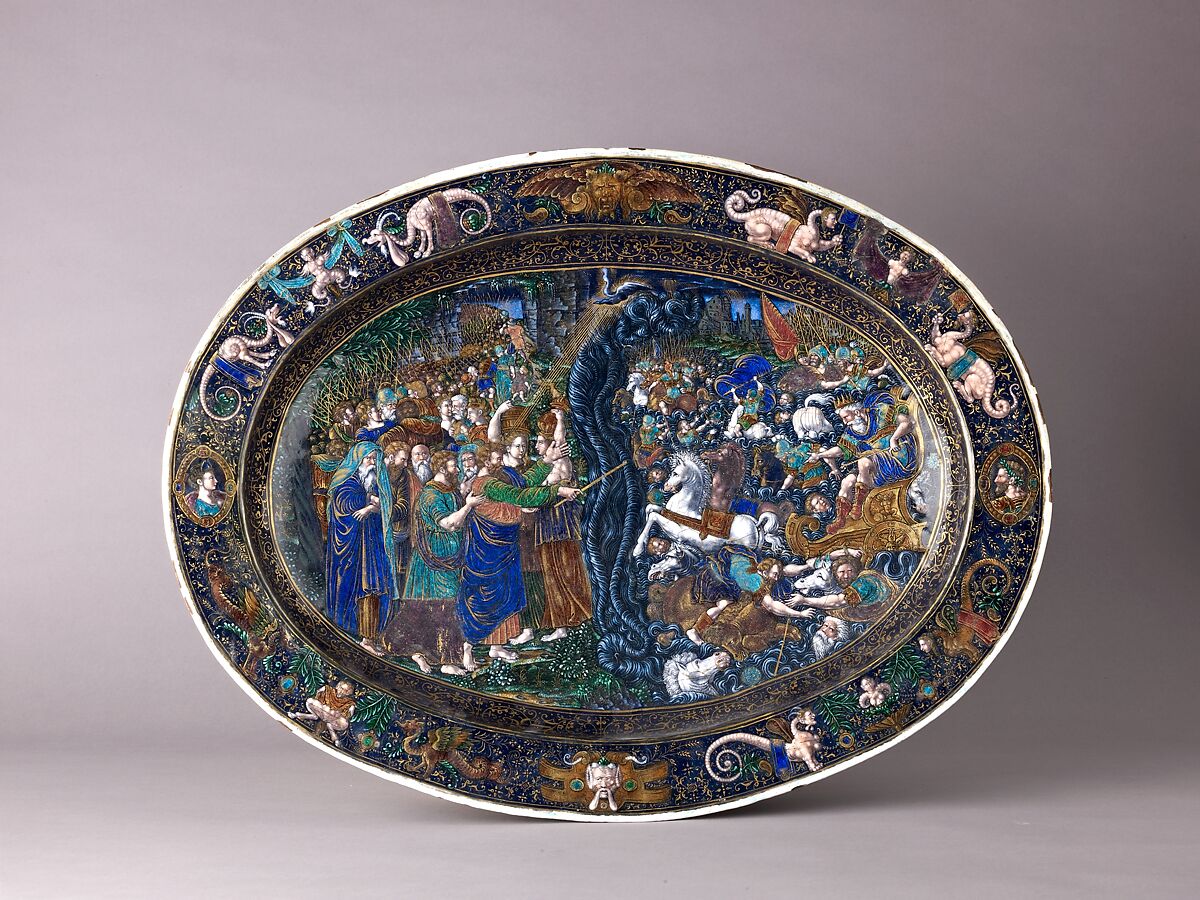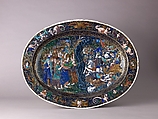 This artwork is meant to be viewed from right to left. Scroll left to view more.