Portrait medal of Niccolò Piccinino (obverse); A Griffin (reverse)
Pisanello (Antonio Pisano) Italian

Not on view
Active in Verona and the Italian courts, the celebrated master Pisanello left behind a significant legacy, including a large corpus of drawings and several paintings. He was also the inventor of the commemorative portrait medal. Inspired by Roman coins, with their portraits of rulers and allegorical representations on the reverse, the medals commemorated individuals or events and functioned as gifts and mementoes.
Niccolò Piccinino, his surname meaning the "tiny one," was one of the most accomplished condottieri (professional soldiers) in fifteenth-century Italy. He worked primarily for the Duke of Milan, Filippo Maria Visconti, who eventually adopted him, hence the addition of the name VICECOMES (Visconti) on the medal. The portrait is based on a drawing in the Louvre, the only difference being that the subject is wearing armor in the medal and civilian garb in the drawing.
The medal's reverse portrays a griffin, the symbol of Perugia, the city in central Italy where Piccinino was born. In a masterful conceit of the artist, the griffin replaces the iconic she-wolf of Rome, suckling not Romulus and Remus, as offspring of the city, but two condottieri: Piccinino and his mentor, Braccio da Montone.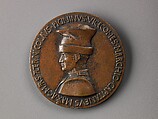 This artwork is meant to be viewed from right to left. Scroll left to view more.