Reliquary Statuette of Saint Christopher
On view at The Met Fifth Avenue in Gallery 305
Venerated from the early centuries of Christianity, Saint Christopher—whose name means "Christ-bearer"—was honored as the protector of travelers. According to "The Golden Legend," Christopher ferried a small child across a river. As he did so, the child's weight grew increasingly heavy. When Christopher complained that it seemed as if he had carried the weight of the world, the child replied, "Wonder not, Christopher, for not only has thou borne the whole world upon thy shoulders, but Him who created the world. For I am Christ thy King." In this imposing statuette-reliquary, Christopher strides through the water, twisting as he turns to look at the Christ Child, who holds an orb in reference to his dominion. The small leaves sprouting from the top of Christopher's staff are a harbinger of the miracle promised by Christ—that if the saint, upon his return home, planted the staff in the ground, it would bear leaves and fruit in the morning.

The hallmarks stamped on the hem of the saint's cloak and on the statue's base indicate that this piece was made by a goldsmith in Toulouse. The reliquary, excellently preserved, reveals a masterful treatment of the material. The soft, rich folds of the saint's cloak belie their metal substance. The ungilded surfaces of the faces are framed by the crisp design of the hair. The engraving of the short curls of the Christ Child, the hair and flowing beard of the saint, and the fish in the turbulent water are accented by the juxtaposition of large areas of silver with bright flashes of gilding. A now-lost relic of the saint was placed in the small box covered with crystal on the statue's base, through which the relic could be seen.
#3160. Reliquary Statuette of Saint Christopher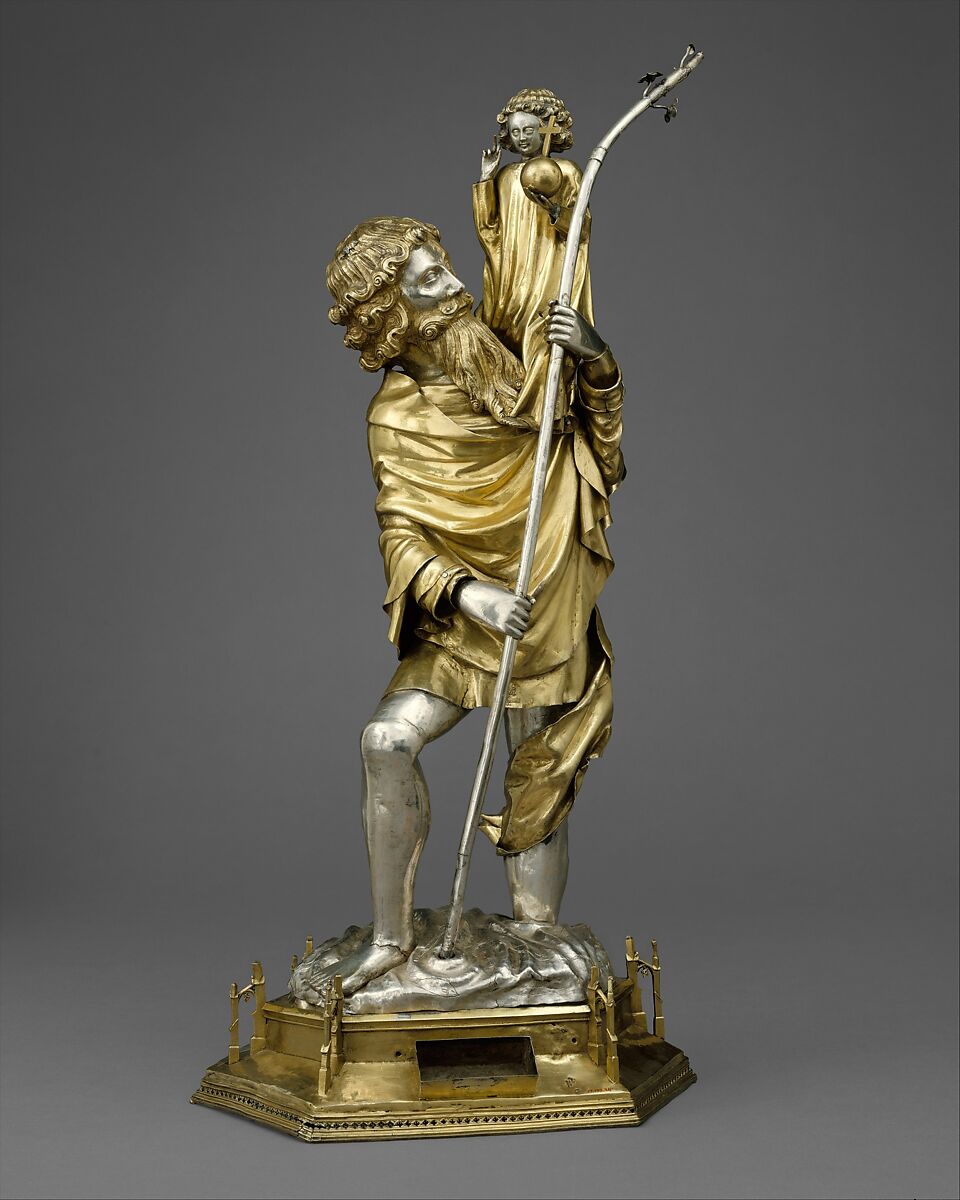 This artwork is meant to be viewed from right to left. Scroll left to view more.