Bifolium with the Decretals of Gratian
Style of Master Honore French

Not on view
This illuminated bifolium, or double page, ranks with the finest painting produced in thirteenth-century Paris. The bifolium, which formed part of a manual of medieval canon law, the Decretals of Gratian, was compiled by a monk who taught at Bologna in the mid-twelfth century. On the sheet shown here, a gloss, or commentary, written by Bartolomeo of Brescia, frames the central, two-column text block representing the work of Gratian, which is preceded by an illustration of the chapter, or causa.

The bifolium incorporates parts of causae 16-19. The miniature signals the beginning of causa 19: "Two clerics wished to transfer to a monastery; both sought permission from their bishop. One left his church against the will of his bishop, the other after having renounced his regular canonicate." The bishop's prerogative is manifest in the miniature: Mitered and enthroned, he holds a crosier and a document with a seal, as he gestures toward two kneeling clerics, who appear to petition him with raised hands. Their facial features and their hair are rendered with a few fine pen strokes. The elegance of line, combined with an almost cartoonlike presentation of the composition, creates an easily legible narrative that is typical of Parisian Gothic manuscript illumination.

The leaf is one of two known to have been extracted before 1910 from a manuscript now in the state archives of the Czech Republic at Olomouc (ms. no. C.D. 39). Both sheets have been associated with Maître Honoré, a native of Amiens, whose name has become synonymous with the best illuminations produced in thirteenth-century Paris. There is, however, only one documented manuscript by Honoré and his workshop--a copy of Gratian's Decretals at Tours (Bibl. Mun. ma. 558), dated 1288. It is conceivable that the Metropolitan's bifolium and the Olomouc manuscript also are the work of an illuminator in Honoré's atelier; the illumination for causa 19 of the Tours Decretals has compositional and iconographic elements in common with the Metropolitan's bifolium. Since Honoré himself was only one of a number of prominent Parisian illuminators active at the time, working in close proximity to and in collaboration with one another, the generic similarities to the Tours Decretals help to confirm a date for the Museum's illumination of about 1290 but not its authorship.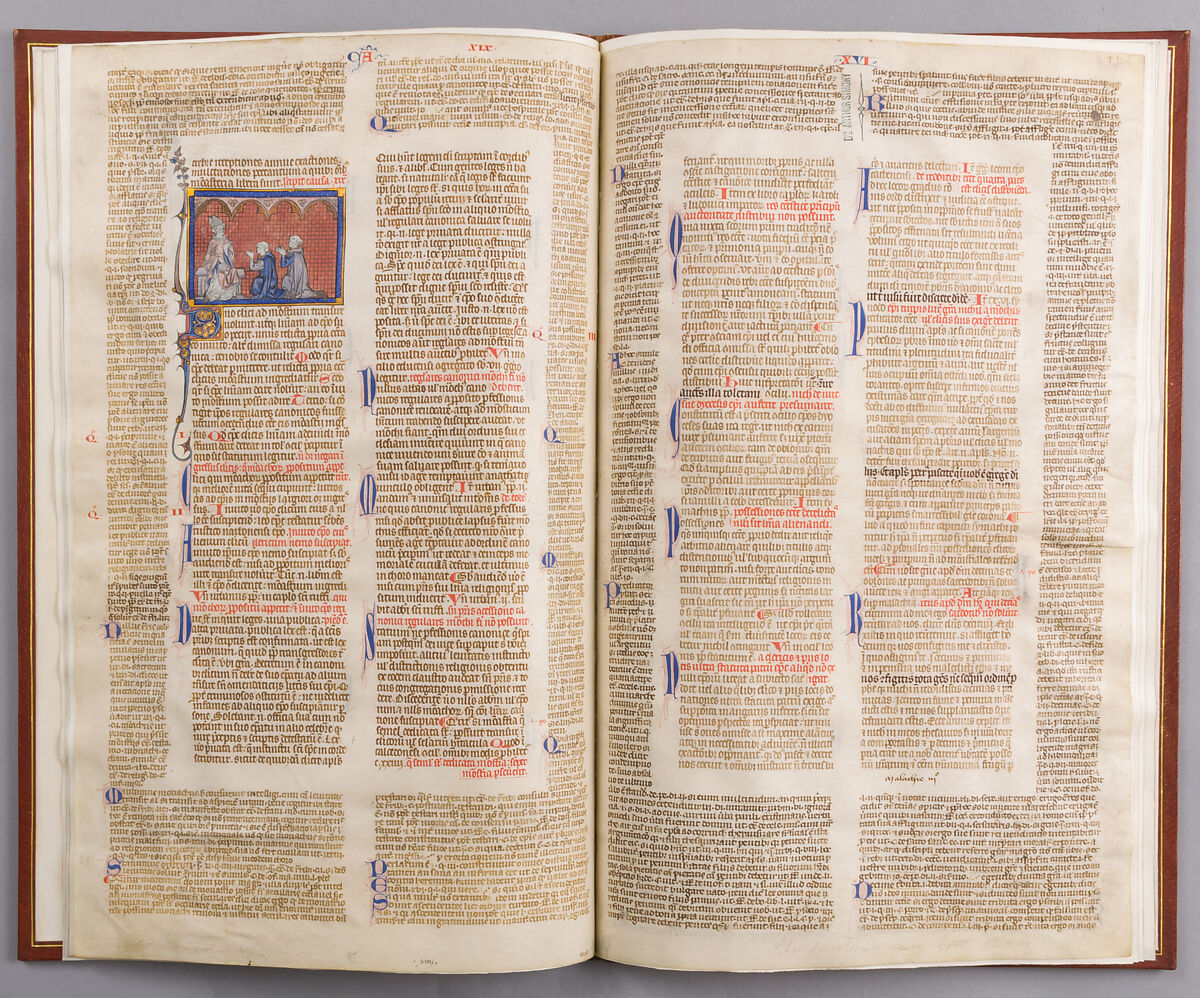 This artwork is meant to be viewed from right to left. Scroll left to view more.