Book and Glass
Juan Gris Spanish

Not on view
For about eight months in 1914, Gris devoted himself almost exclusively to the hybrid medium of papier collé, creating over forty compositions that mix drawing materials and everyday papers with paint on canvas. The Met has a number of these works in its holdings, including this one from the landmark gift of the Leonard A. Lauder Cubist Collection. If the newspaper elements used in the works are a key to his production, Gris likely made them in the spring, before he left Paris for the summer in Collioure. Together, they offer an extraordinary window into the Cubist invention of papier collé as well as Gris's great skill and wit. Gris's papiers collés of 1914 have been lauded by Cubist scholar John Golding, who wrote that they "represent the climax of Gris's exploration of the intellectual possibilities of Cubism and of the new techniques it has introduced."

Papier collé, a method of adhering diverse paper elements in a composition to upend the tradition of painted representation, was a Cubist technique invented in 1912 by Georges Braque and Pablo Picasso. Initially, Gris only made occasional use of papier collé, but it was he who first exhibited a papier collé composition (The Washstand, 1912, private collection), at the 1912 Section d'Or exhibition at the Galerie la Boétie, Paris, where he received great critical attention for the "curious originality of [his] imagination."

Unlike those of Braque and Picasso, whose papiers collés are typically spare and resistant to reading, Gris's works are closer to paintings, their entire surfaces covered with paper and paint. He carefully planned his compositions, building them with cut, matched, and layered pieces of paper—some plain, some pages of journals, some wallpapers with imitation surfaces—and then outlined, shaded, and highlighted forms, bringing all the elements into synthetic wholes. Often, such works also draw upon the tradition of trompe l'oeil ("deceive the eye") painting. They question the nature of representation through perceptual and psychological games that complicate truth and fiction. Attentive to the iconic properties of his materials, Gris delighted in such visual puns. His papier collé compositions—with their unique opportunity for pictorial rhyming, optical trickery, and potential misreading—bear witness to his artistic humor.

Mystery lurks in this seemingly simple arrangement of a bottle, glass, pack of Scaferlati Ordinaire tobacco, and book on a tabletop. As forms shift, turn, and double, the open book offers a clue: a collaged page from L'agent secret (published in English as "A Nest of Spies"), the fourth installment of the Fantômas crime series. The dealer Daniel-Henry Kahnweiler wrote of Gris's penchant for occult literature, his superstitious nature, and his "strong taste for 'Fantômas,' whose powers of invention fascinated him," as they did so many of his artistic circle. Indeed, the mysterious character Fantômas appears in several of Gris's papier collé compositions, adding to the experience of sleuthing when deciphering this composition. In Book and Glass the form of a shadowy headless man takes shape: the stemmed drinking glass at top center reads as a neck and shirt collar; the top diagonal edges of the table become shoulders; the long triangle of shaded brown paper at center doubles as a necktie; and the tobacco packet at upper right is a folded pocket square.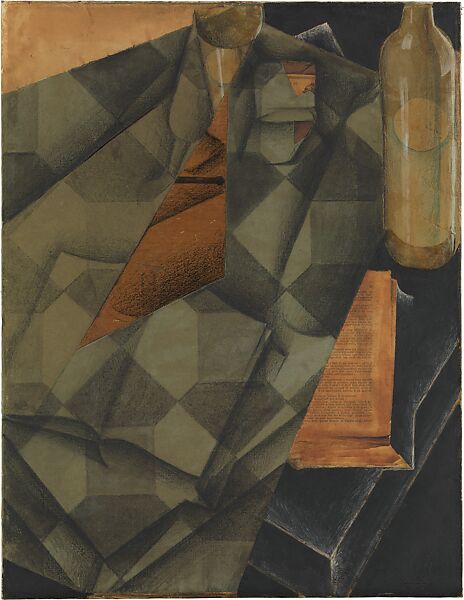 This artwork is meant to be viewed from right to left. Scroll left to view more.