Muselar Virginal
Joannes (Jan) Ruckers Flemish

Not on view
Joannes (Jan) Ruckers was the oldest son of Hans Ruckers who built the extraordinary 'mother and child' virginal also at The Metropolitan Museum of Art (29.90). After training in his father's workshop, Joannes became a master and joined the Guild of St. Luke's in 1611. This instrument is a muselar virginal, a type of instrument with a rectangular case and a single set of strings that run parallel to the back of the case and with its keyboard set to the right fo the center of the case. The more typical virginals had their keyboards to the right of the center of the case. The position of the keyboard and jacks makes the plucking point of the strings closer to the center than for other virginals, giving these instruments a discernibly different sound that is sometimes described as 'flute like.'

The instrument has a rectangular popular case with inset keyboard to the right (muselar). The interior case walls and interior surface of the lid is decorated with block-printed papers featuring arabesque and wood-grain motifs. The keywell and front of the interior case are decorated with sea-horse patterned block-printed papers, which commonly appear on Ruckers instruments. Block letters on the interior lid papers carry the motto OMNIS SPIRITUS/LAUDET DOMINUM ("Let every spirit praise the Lord"). The original compass was 45 notes C/E to c3, but was enlarged in the eighteenth century to 54 notes with a range from C to f3. The naturals are covered with bones and have embossed parchment fronts. The accidentals are black-stained oak. The soundboard is decorated with painted flowers, fruit, arabesques, and a gilded cast metal rose with the maker's initials IR.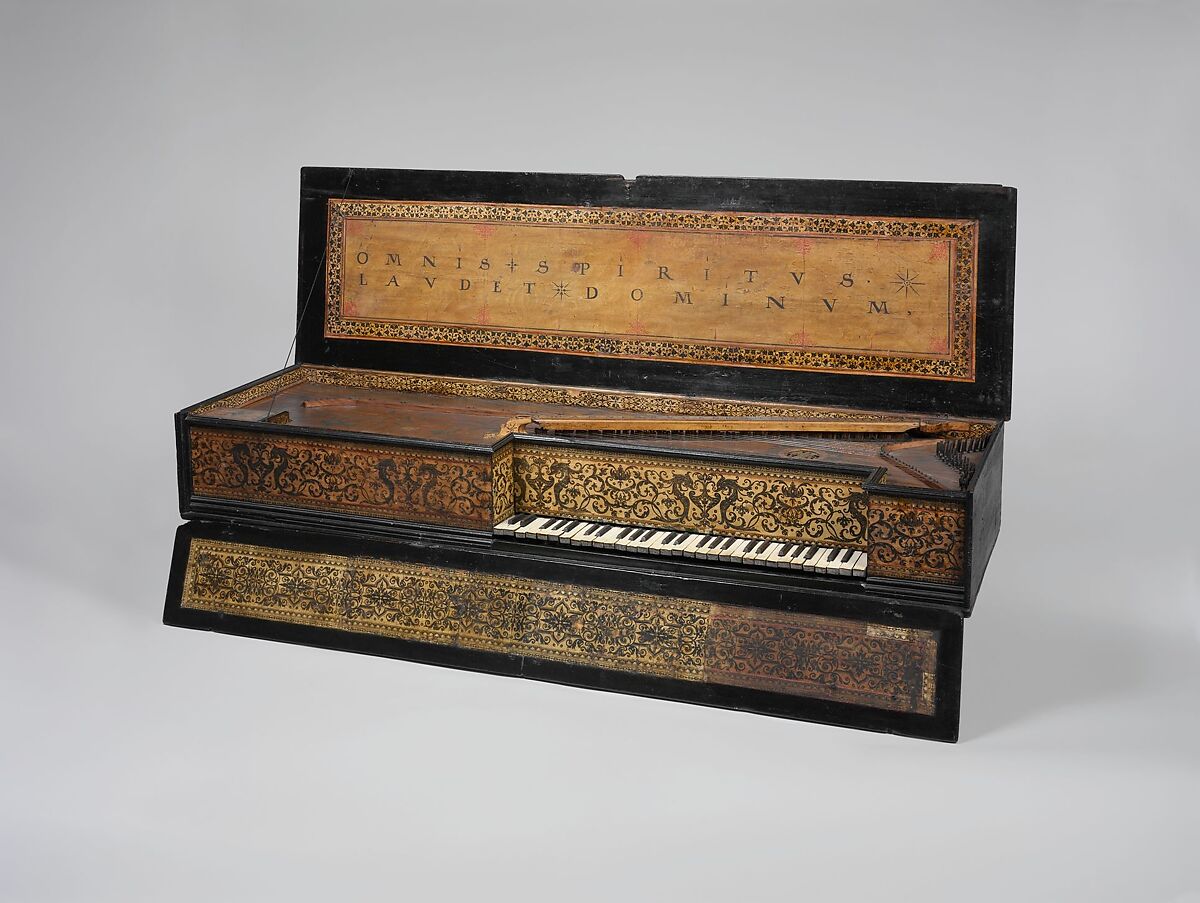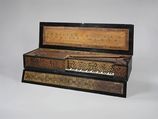 This artwork is meant to be viewed from right to left. Scroll left to view more.