Relief with two officials or sons of the Vizier Dagi
Middle Kingdom
On view at The Met Fifth Avenue in Gallery 107
Dagi was a treasurer and vizier during the late years of Mentuhotep II (2010–2000 B.C.) and the reign of Mentuhotep III (ca. 2000–1988 B.C.). His rock-cut tomb, which has the traditional shape of a "saff"-tomb with a pillared facade, overlooked the Asasif valley (the eastern extension of Deir el-Bahri). Owing to the friable consistency of the rock, the massive pillars had to be strengthened with brick. Both the brick and rock segments of the pillars were covered with plaster and painted with scenes from daily life.

Unusually, the corridor into the interior started from the tomb facade, not from the transverse hall behind the pillars, as was the norm. It led to an interior offering chapel. Both the corridor and the chapel were cased in fine limestone and decorated with painted reliefs. The tomb was used in early Christian times as a monastery, and the casing blocks were, either at that time or earlier, taken down and smashed to pieces. Only a handful of fragments were recovered; the exceptionally fine relief forms a convincing link in the stylistic development from the earlier reliefs of the tomb of Khety (see 26.3.354*) to later reliefs from Lisht North (07.227.20).

Here two exquisitely adorned and made-up young men are squatting, each with one knee up. Their attitude is reverential, with their left hands on their right shoulders and their right hands gripping their left forearms.The preserved hieroglyphs read Saiset (Son of Isis), an early example of the use of the goddess Isis in a name. It is unclear whether these two men are sons of the tomb owner or high officials who served in his court.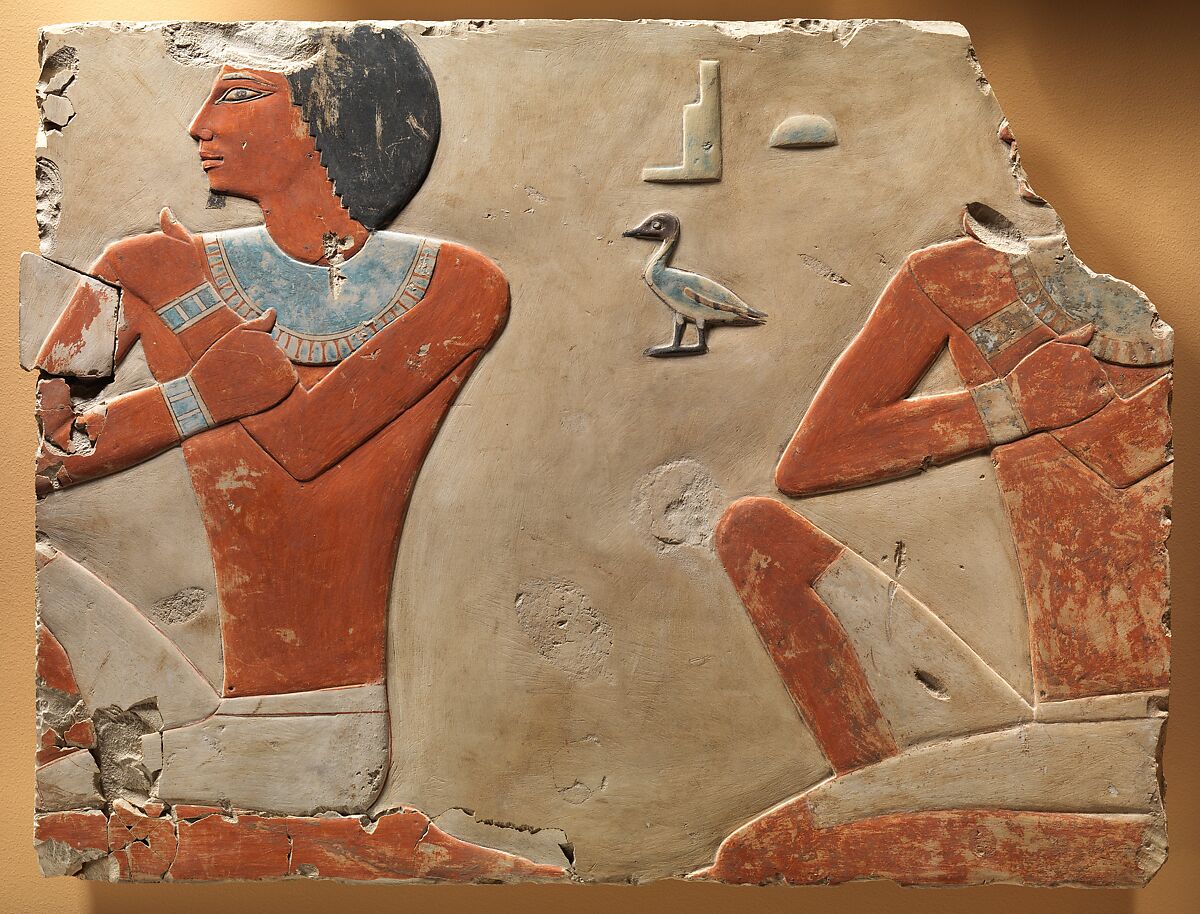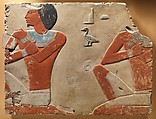 This artwork is meant to be viewed from right to left. Scroll left to view more.