Bowl
Ptolemaic Period
On view at The Met Fifth Avenue in Gallery 134
The relief decoration of this shallow bowl is enhanced by the contrast between its primary light turquoise color and the dark blue used in the interstices and background. On the exterior, five petals of the nelumbo lotus interspersed with the tips of inner lotus petals and ribbed leaves of an unknown plant surround the base like a flower. Inside, three rings of nelumbo petals and ribbed leaves enclose the central rosette; a wave-crest pattern and plain band surround the whole.

Bowls were part of the widespread faience production in Hellenistic and Imperial Roman times. Examples have been found in Egypt and around the Mediterranean, from Israel in the east to southern Italy in the west. Dual-color relief of varying height is a standard feature of this ware, as is the mixture of Egyptian and Greek motifs. Elements imitating metal vessels are noticeable in some instances. Most bowls of the ware are hemispherical and bear decoration exclusively on the exterior. The Museum's bowl shares its shallow shape, recessed ring base, and interior with only a few other vessels, all of which seem to come from Egypt. Close parallels were excavated in the cemeteries around Alexandria. It is therefore probable that this bowl was made in a faience workshop in that city. Other types of the ware are thought to have been manufactured at Memphis. Terracotta parallels for the shape suggest a date in the first half of the second century B.C. for the Museum's bowl.

The faience material, motifs, and cemetery provenance of the piece found at Alexandria indicate that the vessels were made to serve either funerary or ritual purposes, or both. Lotus flowers, as well as the figure of a frog that sits on the rim of yet another similar bowl, are age-old symbols of creation, life, and resurrection. They are more than mere embellishment on vessels that could have been used as funerary equipment or in the cults of deities such as Serapis and Isis.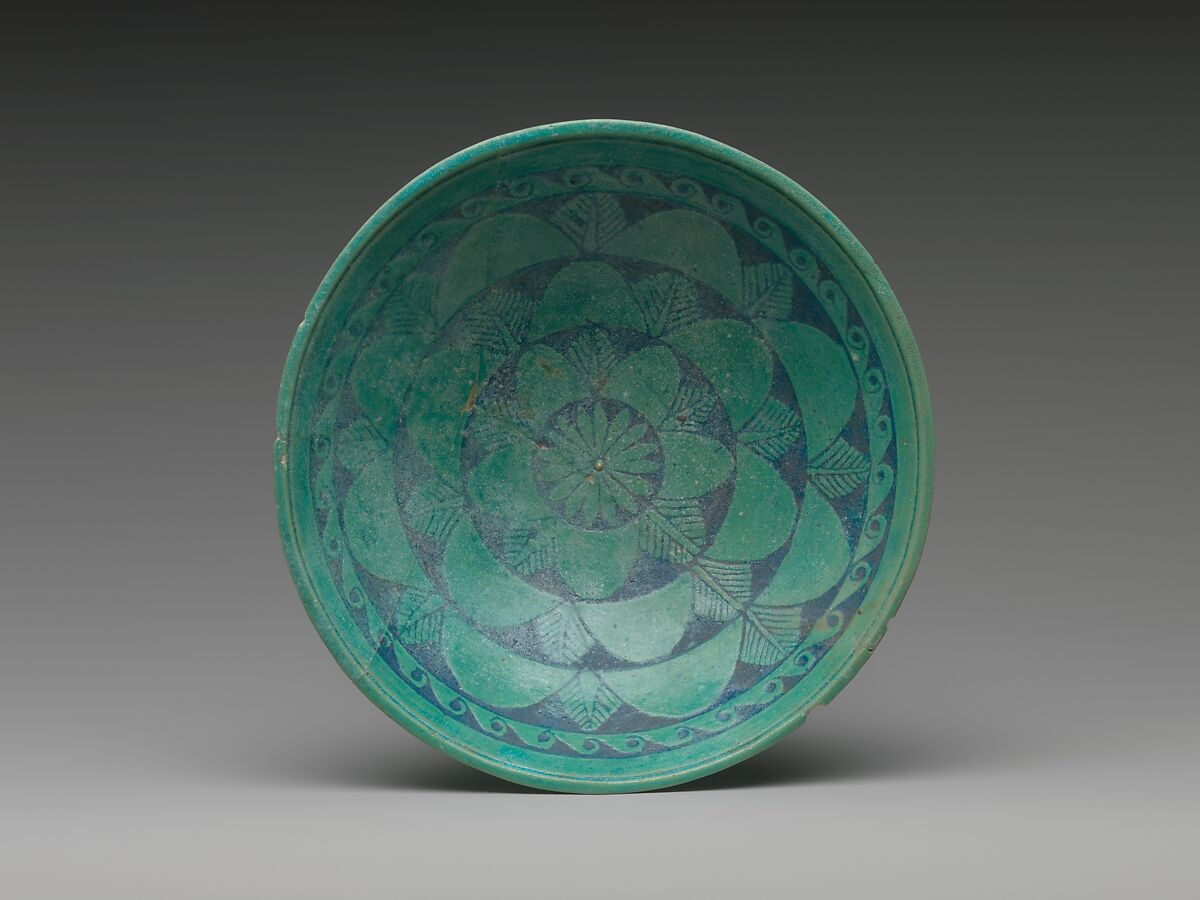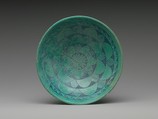 This artwork is meant to be viewed from right to left. Scroll left to view more.