Relief of Queen Nefertiti
New Kingdom, Amarna Period
On view at The Met Fifth Avenue in Gallery 122
Nefertiti, whose name means "the Beautiful One Is Here," was principal queen of Akhenaton. Like her mother-in-law Queen Tiye, Nefertiti was a powerful figure in the court. She is frequently shown participating in religious rituals on an equal footing with her husband, and she already played an unprecedented role in the decoration of the Aten structures that Amenhotep IV built at Karnak, from which this block almost certainly came, before his move to Tell el-Amarna.

This relief block shows the queen wearing an elaborate wig surmounted by what was originally a towering crown of uraei, sun disk, two cow horns, and two feathers. Her arm is raised in offering to the Aten. The queen's image is depicted, with a drooping chin, thin slanted eyes, and a sharply angled nose and brow similar to that is seen in depictions of her husband in an exaggerated style seen in some earlier of Amarna art (see 66.99.40).

As Marianne Eaton-Krauss, a specialist in Amarna art, has recently pointed out, the traces of the Aten rays around the queen'fs face and arms indicate the disk was almost directly overhead. The queen must have stood alone, without her husband, beneath the rays. She would have been followed by a small figure of her eldest daughter, labeled in the column of hieroglyphs behind her head. The unusual arrangement is known from the pylons of the early Temple of the Benben at Karnak, and from some enigmatic structures known as the Pillars of Nefertiti. The relief may well have originated in one of these structures.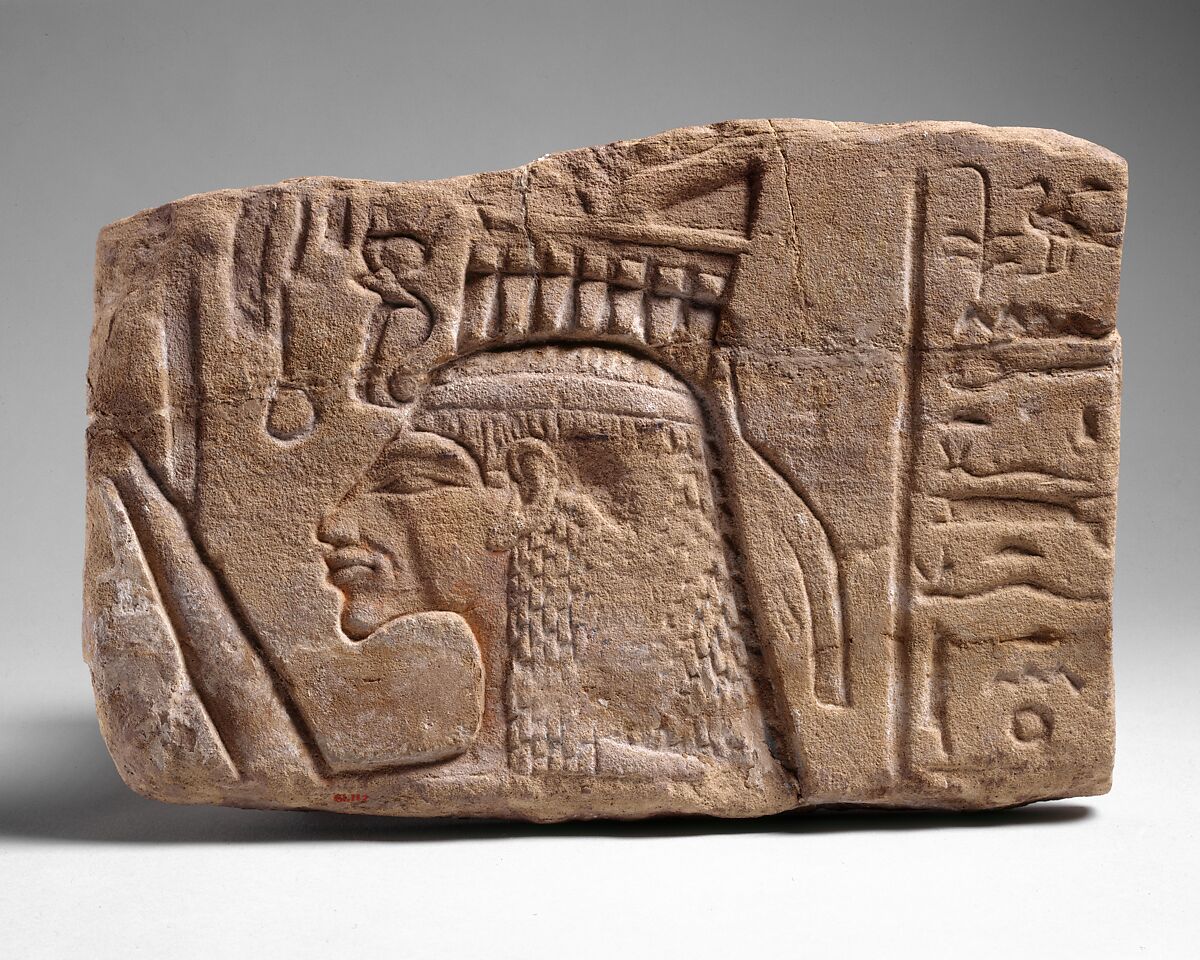 This artwork is meant to be viewed from right to left. Scroll left to view more.