Figure of a Male Rice Deity (Bulul)
Not on view
Rice is central to the economic and spiritual life of the Ifugao peoples who live in the mountains of central Luzon, Philippines. The landscape of the region is defined by stepped rice terraces carved into mountainsides, while the cultivation of rice is associated with elaborate rituals to ensure the bounty and quality of the crop.
Bulul are carved ancestor figures that were placed in granaries to guard the rice crop. Bulul is both the name of a class of ancestor spirits, as well as the carvings that serve as vessels to house those ancestors. The carvings are usually displayed in their granaries in male and female pairs. This single male figure has been carved with its hands resting on slightly bent knees, in a posture typical of bulul made in the Hapao region of Luzon. The rectangular, mortar-shaped base with a deep groove in the center is also characteristic of Hapao bulul. There is a strength and firmness to the pose that speaks to the ancestral power of this vessel.
Across Luzon there is a diversity of carving styles used to create bulul. Other examples can be seen standing with their arms held straight at their sides, or seated, with arms resting on bent knees (1992.224). Early examples are always bald, though some more recent bulul do have human hair attached to their heads. Others are carved with a ridge around their heads to suggest the presence of hair. The holes drilled in the bulul's ear lobes are so rice stalks could be inserted.
Ceremonies and festivities are associated with every stage of the creation of a bulul, from the selection of the tree, harvesting the wood, carving the figure and the performance of rituals to ensure that the bulul ancestor spirit will enter the vessel. Bulul are traditionally carved from the wood the narra tree associated in Ifugao cosmology with health, happiness and prosperity. Once the carving is complete, it is consecrated through a ritual that involves the recitation of the myth of Humidhid, the deity who made the first bulul. The figure is then bathed in the blood of sacrificial pigs. Following the ritual, the bulul will remain in the home of the commissioner for a period, after which time it will be placed in the granary to protect the rice crop from malevolent spirits. During harvest ceremonies the figures are brought back into the house, where they are presented with offerings of rice wine, cakes and the blood of sacrificial animals.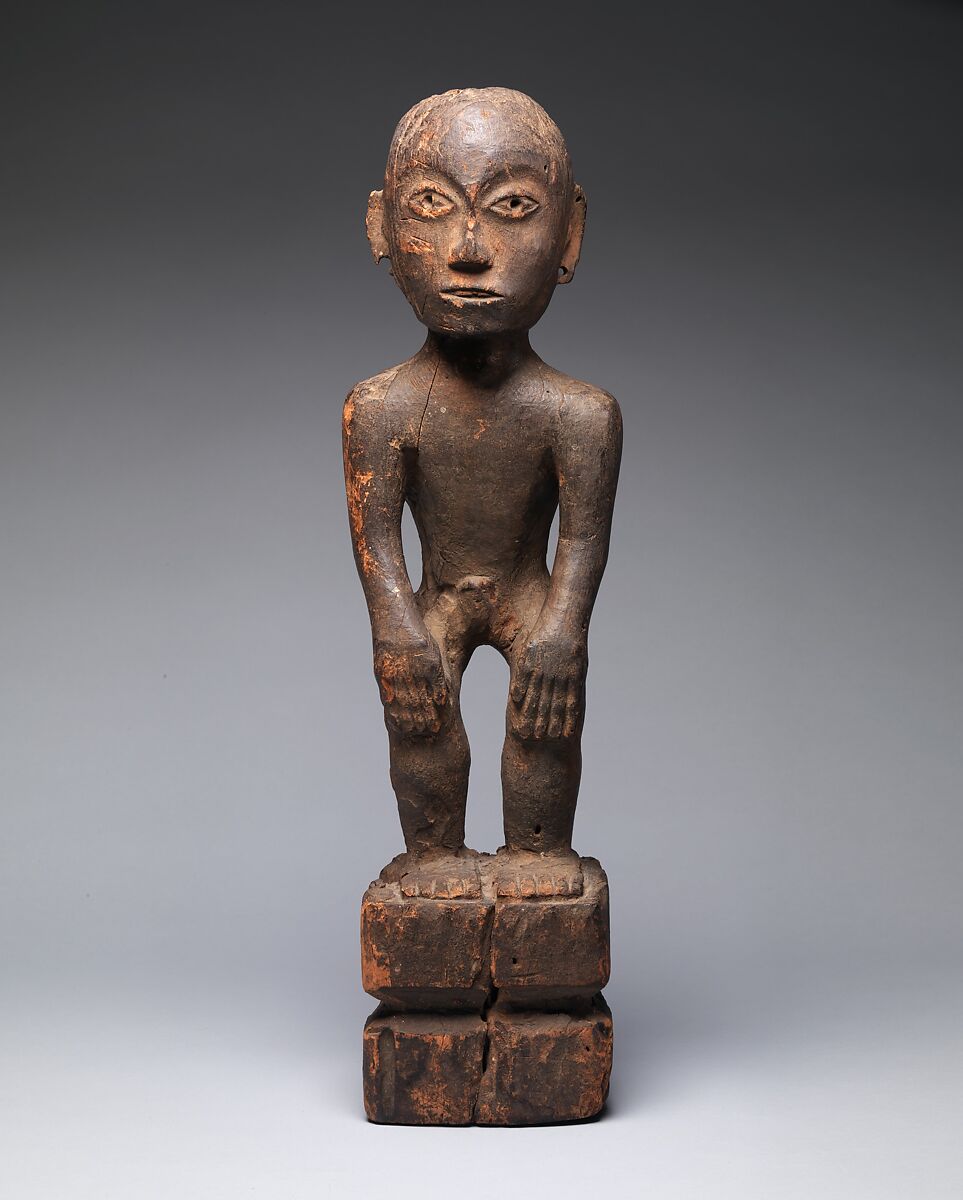 This artwork is meant to be viewed from right to left. Scroll left to view more.